We are supported by our readers. If you make a purchase, we may earn a small commission at no extra cost to you. Learn More.
It is incredibly stressful and straining to sit on a regular plastic chair for your gaming session. While it may seem like a good idea to save money on a chair, it can seriously stress your back. Hence, it is wise to spend money on a gaming chair with an ergonomic design to a maximum comfort level. This article will give you a detailed Von racer gaming chair review. You will be able to analyze all the features and determine whether the chair fits your needs.
Overview of the Von Racer Gaming Chair – The Ultimate Dream for Gamers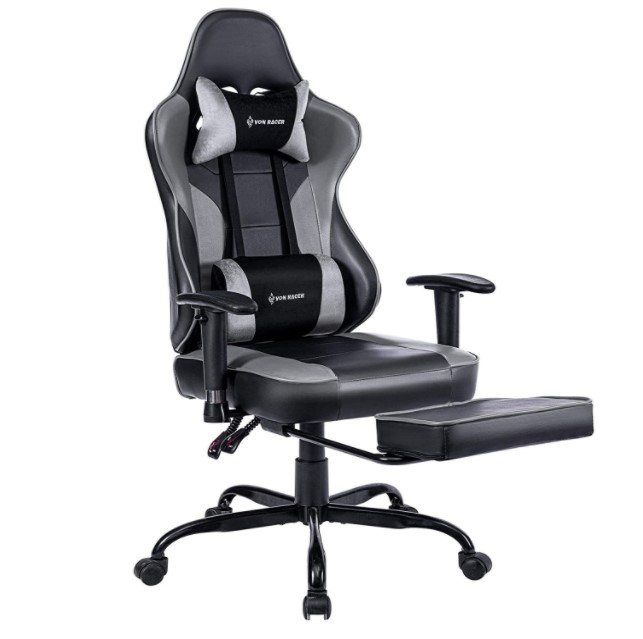 Von racer gaming chair is your ultimate dream come true as it has the features you are potentially looking for. Let's start with the ergonomic design, which is perfect for any gamers who aggressively like their stuff. The impressive racer-style perfectly fits a gaming room vibe, which is looking to match. The 360-degree swivel is something you will find most basic, yet it is the critical feature that provides the user with effective control. A user can take advantage of the USB massage option to take the fatigue off.
We cannot ignore the adjustable armrest and backrest that are perfect for a customized feel. The reclination of the Von racer gaming chair perfects to achieve the position you want. The wide flat seat is ideal for users of all weight and height as it provides stability. All the tools are commercial standard with a one-year warranty. You can contact the customer service center if there are any issues with the chair parts. One of the best parts about the chair is its plush PU leather seat with cloud-like foam padding. A user can take full advantage of the curved backrest, which adjusts phenomenally to any human's back. The leather of the chair is also water-resistant and fade-resistant, which further adds to its durability.
Key Specifications
| | |
| --- | --- |
| Brand | Von Racer |
| Item weight | 43 pounds |
| Item dimension | 26.77 x 26.77 x 51.97 inches |
| Manufacturer's estimated weight | 250 pounds |
| material | Metal, PU leather |
Features in detail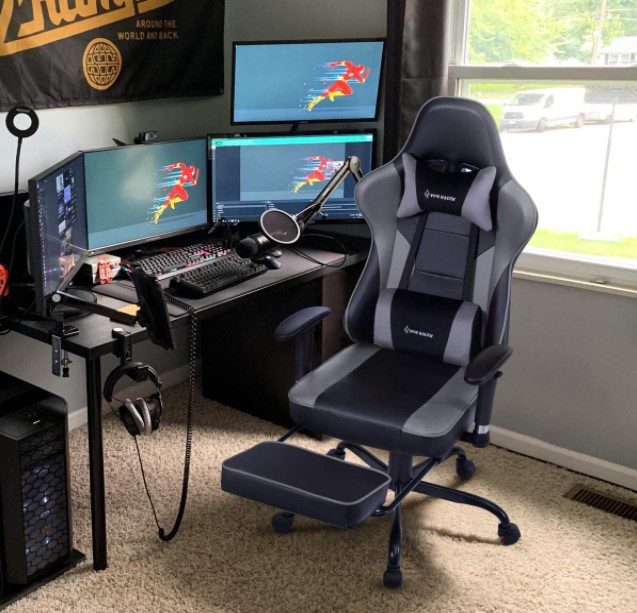 Racer-Style
There are various racer-style gaming chairs available, but not many fit perfectly to a user's taste. However, the Von racer gaming chair is intuitively designed with a perfect exterior. It leaves the user speechless and spellbound as its material, and metal framing is crafted to perfection. The whole aggressive feel to the chair is added through multi-coloring effectively.
Multi-Action Chair
We all desire to pay for one item and use it for multiple things. The Von Racer gaming chair's multi-action effect is perfect to use for various things such as office work, all-day gaming, and relaxing. It has an excellent reclination ability, which makes it multipurpose overall.
Wide Space
The gaming chairs we see typically are stiff and do little to support a heavy person's weight. A user can take full advantage of the Von racer gaming chair as it has a wide seat with softly padded elastic foam. The overall seat is covered in PU leather, which is of excellent quality and adds to the chair's overall look. The high-grade leather is water and fade-resistant, which works for more prolonged use.
Recline Level and Adjustment
The Von racer gaming chair becomes more appealing due to its reclination and adjustability. A user can recline the backrest for up to 180-degrees, which works perfectly if a user has to take a quick nap. To make the chair more comfortable, a footrest is also given to elongate their legs. The headrest and armrest are also adjustable, which allows users to use it the way they want.
Pros
Aggressive style
180-degree reclination
360-degree swivel
PU leather material
Cons
Extra stuffed neck pillow
How to assemble the Von Racer gaming chair?
A newbie can have a lot of trouble in installing the chair due to various reasons. It is hard to analyze the parts and accessories. Beginners can assemble the Von racer gaming chair properly due to various reasons. First, there are many YouTube videos available out there that tell you how to assemble the von racer chair step by step.
If you feel like watching the video alone is not adding any efficiency to the process then you can look at the manual. The manual is also perfect to guide the beginners as it has precise pictures and the process step by step. We would like you to attach the caster last after attaching the body. It can be a challenge to assemble the back; however, a small help from another person will prove to be viable.
Why choose the Von Racer gaming chair?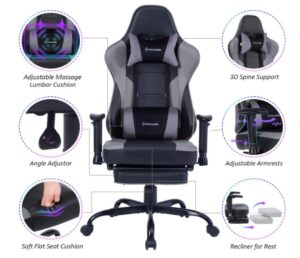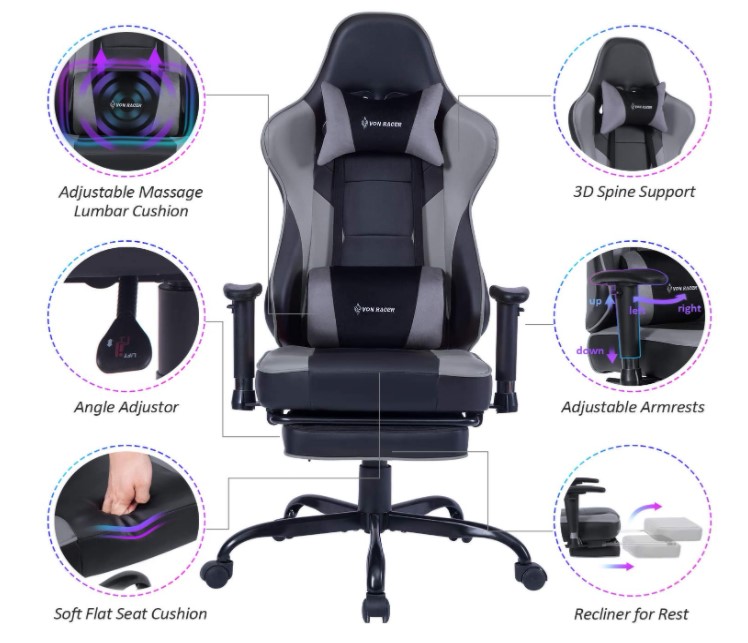 People always look for an ultimate feature or something that makes a chair better than the others. In this Von racer gaming chair review, we are willing to provide you all the justifications. So, let's begin:
Adjustable Lumbar Cushion
The Von racer gaming chair takes adjustability to another level with its lumbar massage pillow. A user can easily target any area they like, and the slow heat massage technology receives back ache significantly.
Affordability
Affordability is probably the first factor we notice in any item. If you are amongst the same people, then the Von racer gaming chair will suit you best as it is under $200. The chair is perfectly affordable with all the features that you will find in a high-end brand.
Brand Value
If you are a frequent gaming chair lover and know about them, then Von racer is undoubtedly a brand you may have heard of. The brand produces high-quality chairs with the best features you can find in the market.
Frequently Asked Questions (FAQs):
Is Von racer gaming chair rocking style?
Yes, the tilt technology within the Von racer chair works perfectly.
Is the lumbar back removable in the Von racer gaming chair?
Yes, a person can remove the lumbar back pillow by removing attachments from either side of the seat.
Is genuine leather used to make the Von racer style chair?
No, the manufacturers use PU leather with a soft foam cushion to make the chair.
Conclusion
A gamer without a gaming chair cannot play with the same intensity until their body is at ease. The Von racer gaming chair has all features a user is looking to avail of. Hence, you can get your hands on it as it is affordable and does the job well.
Read Related: