We are supported by our readers. If you make a purchase, we may earn a small commission at no extra cost to you. Learn More.
Are you a gaming freak who loves to do nothing but play video games all day? The idea of pulling an all-nighter for gaming seems like a perfect idea, but sitting for so long can make your back freeze. Well, you do not want such a thing to happen to you. Hence, investing in a gaming chair will save you from going through the hassle of muscle pain. Now, many people want to buy a gaming chair that justifies their investment. A wide variety of gaming chairs with high-intuitive features such as racer-style design, ergonomic shape, 360-degree swivel, etc., are available. Homall gaming chair is an exceptional chair with great features. This article targets the Homall gaming chair review to give users a basic idea.
Overview of the Homall Gaming Chair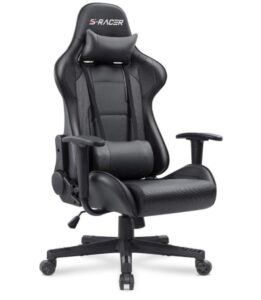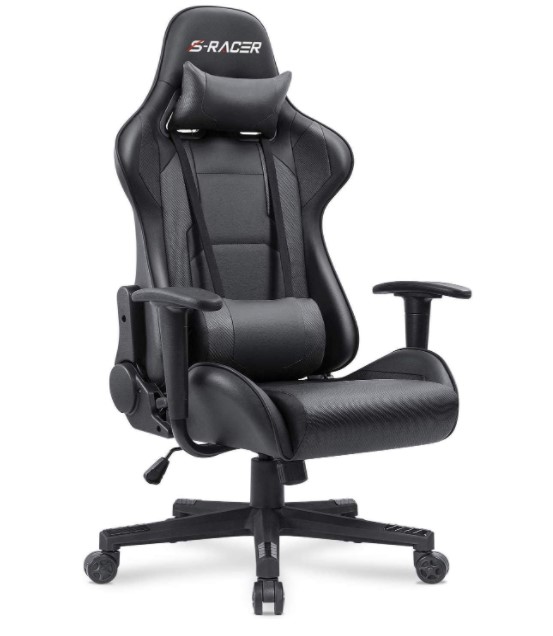 When we look at any gaming chair, regardless of the brand, we look for comfort. Homall gaming chair is the ultimate user choice due to its highly durable elastic resilience foam. The high-density shaping foam is spectacular in maintaining the chair's overall look, and it lasts for a very long time. A user will undoubtedly enjoy a 1.8mm steel frame with a PU leather coating, user-friendly and wear-and-tear resistant.
The wheels of the Homall gaming chair are rubber coated that are tested for adequate movement. One of the things that users will enjoy is the class-3 gas lift for seamless support. The Homall gaming chair is extremely user-friendly due to its 360-degree swivel, 300-pound weight capacity, high-reclination, tilt function. A user can control all the adjustability functions through a single knob. Lastly, the sleek black color makes the chair look extremely elegant in any corner.
Key specifications:
| | |
| --- | --- |
| Brand | Homall |
| material | leather |
| Item weight | 57.3 pounds |
| Manufacturer's suggested weight | 300 pounds |
| Item dimension | 19.8 x 20.5 x 47.8 inches |
Features in detail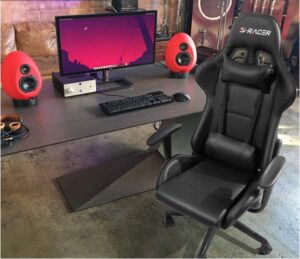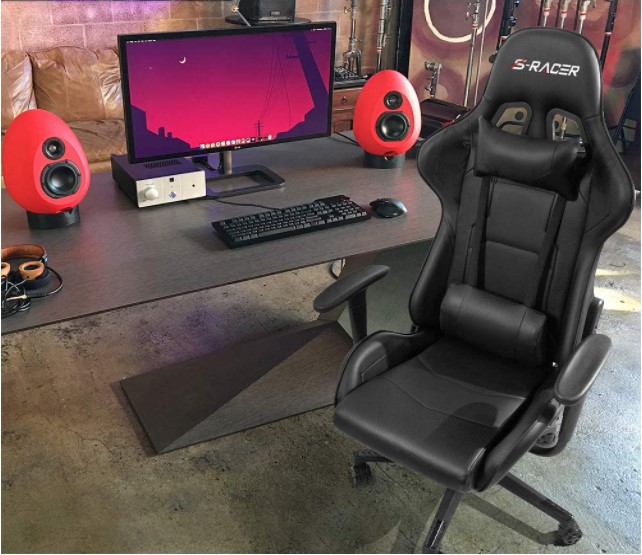 Sturdy construction
The Homall gaming chair is the ultimate user choice due to its solid construction. We cannot help but appreciate the 1.8mm steel frame, which gives the chair the longevity every user needs. The high-density foam with great elastic resilience works exceptionally well for users. The overall comfort is exceptionally enhanced with the PU leather coating.
Great Technological Integration
We cannot help but consider the Homall chair due to its exceptional 360-degree swivel technology, which is only the beginning. The 90-180-degree recliner back of the chair is enough to get the users to a long nap. How can we forget the tilt technology that makes the back rock for added relaxation? The adjustable back and headrest are spectacular for providing users what they want, ultimately comfort.
The Rolling Caster and Lumbar Back
The rolling caster and its wheels are super high quality with effective control due to the rubber padding. The nylon caster is super high-quality, with a control knob for reclination and a class-3 gas lift. The lumbar back is one of the star features that further adds to the comfort level.
Durability
You cannot waste your money on a chair that is not durable. The 20.5-inch-wide chair is perfect for heavy people, and it can hold up to a 300-pound weight. The multi-directional wheels are highly durable and work perfectly for swift movements.
Pros
Highly supportive lumbar back
Class-3 gas life
90-180-degree recliner back
Rubber coated multifunctional wheels
Cons
Faux leather causes friction
How to assemble a Homall gaming chair fast?
People often get stuck with the assembly part of the chair. However, there is no rocket science behind it because a beginner can do it quickly as well. Homall gaming chair is a famous one; hence, you can find various tutorials regarding chair assembling. The chair also has a detailed manual that you receive with your order.
To assemble the chair correctly, a user must go through the manual and gain some clarity. Take all the parts out and their screws. Now grab a screwdriver fast and follow the manual. It is rational to attach the backrest with the seat first before moving to the wheel caster. If anything is still unclear, you can reach out to Homall's customer care center.
Why choose the Homall gaming chair?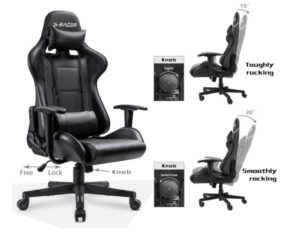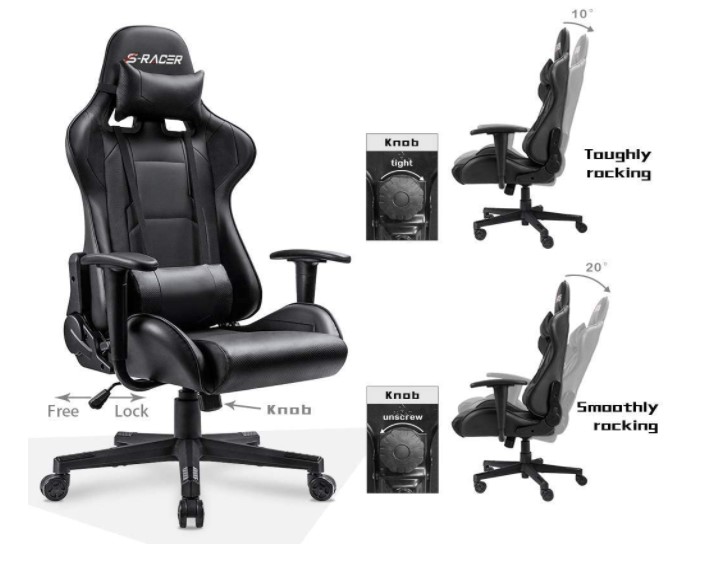 Homall gaming chair is a perfect choice for users looking for a cheap yet durable chair. In the Homall gaming chair review, we will give you all the reasons to buy it.
Stain-Proof
The PU leather coating on the Homall chair is perfect for people who have kids around. Even if you opt for a white chair, there will be no stains or marks left behind. It is easy to maintain as well; you can wipe it down with a damp cloth to make it look as good as new.
Budget-Friendly
You can get this chair for less than $150, which is perfect for people who like affordable things yet functional. You also get to choose from three different colors, which is an excellent deal. The shipment is faster than you think.
Ergonomic Design
There is nothing more perfect than having a chair that perfectly suits your style and house aesthetics. The chair is ideal for people who love racer-style and a large recliner back to relax whenever they get a chance.
Frequently Asked Questions (FAQs):
Is Homall gaming chair a rocking style chair?
Yes, the Homall chair has a tilting technology that allows the chair to rock back and forth at a maximum 20-degree angle. A user can also lock the tilt function to keep the back stationary.
Does the Homall gaming chair have adjustable arms?
Unfortunately, no! The Homall gaming chair does not have an adjustable armrest, which can be an issue for a few people. The armrest only inclines inward, which does not do any benefit comfort-wise.
Does PU leather cause intense friction?
The PU leather has a suction type of effect, which causes friction and heat if a user sits on it for too long. However, some people may not find it to be an issue as most chairs are like this.
Conclusion:
Homall gaming chair delivers spectacular comfort-level and that too at a very affordable price. Its multi-functional wheel caster is undoubtedly a plus point that most users can take advantage of. A user can genuinely benefit from the recliner back and smart knob control at the bottom of the chair.
Additional Resources: