Massage chair at home is the finest place you would love to visit at least once every day.
These chairs are usually pricey, and the best of them packed with all essential features comes above $1000 – which is exactly what not everyone can afford.
But there is nothing to refuse your choice of having a feature-full massage chair if your budget is not very high.
In this article, we have reviewed the best massage chair under $1000 you can buy confidently.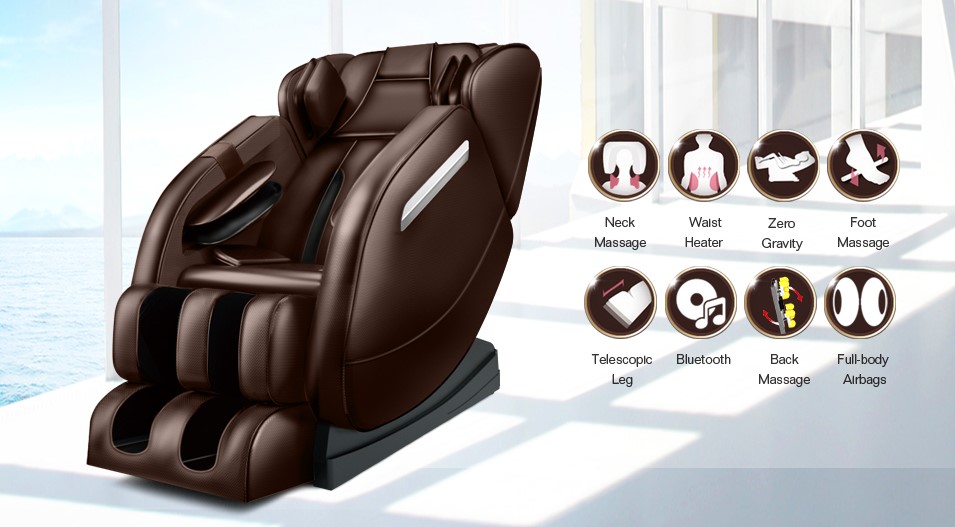 We have analyzed each model by going to its skeleton. It makes it more convenient to evaluate, and you can pick your top-rated massage chairs below $1000 by knowing its compatibility – without being worried about its warranty, features, inclinations, and dimensions.
So, let's get ready to dive into the countdown below!
List of Top 12 Best Massage Chair Under $1000
Real Relax Massage Chair – Full Body Zero Gravity Shiatsu Massage Recliner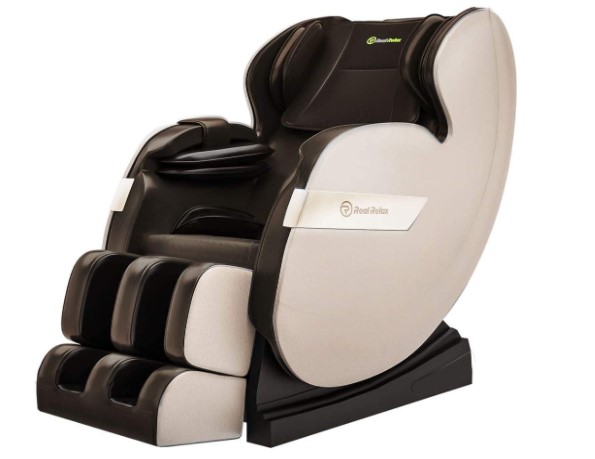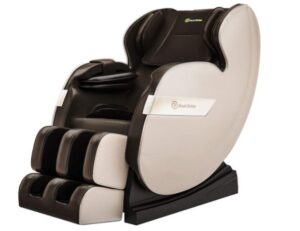 This is our top pick, as it supports all side massages of the body through its 6 automatic programs and a number of qualified features.
No doubt that a good massage chair must have firm leg support and cushioning throughout the seat pouch. In this chair, you will experience zero gravity massage to shoulders, calves, neck, arms, lumbar, thighs, and feet. Without losing the balance of feet while reclining, Shiatsu Massage Recliner is an extremely affordable deal and matches features with those tagged at $1000 or above prices.
You will also get a complete package of massage in one box, including outstanding customer support. If still not satisfied, the payback option is available with some bucks as charges.
Check complete review here:  Real Relax Full Body Shiatsu Massage Chair Recliner
Important Features You Need to Know
The massage mechanism feels so soothing and comfortable due to air-filling bags vibrating at 8 different sides when someone takes a seat in it. These points don't bother you by vibrating at the same speed; you can simply maintain one most suitable mode.
The bending or reclining capability of this chair is no doubt outstanding. You can recline to 45-55 degrees at one time, and this is where the zero-gravity state establishes, and you experience the lightweight of yourself while using amazing massage features.
The packing is convenient to unfold, and the products come in two boxes. You can easily assemble all the components within 30 minutes by reading detailed instructions placed inside the parcel. Once things are settled, get in it, and here's where your peaceful life begins!
Final Views
Real Relax Massage Chair is an ideal treatment for all types of its users. The quality you are missing in other massage recliners, this chair costs less than 1000 dollars, you will get high-end features in it, including padding, roller massagers, Bluetooth, and more!
Pros
Highly convenient to use
Easy to assemble
Multiple massage options
Recliner
Good quality overall
---
SMAGREHO Massage Chair Recliner – Best for Complete Body Support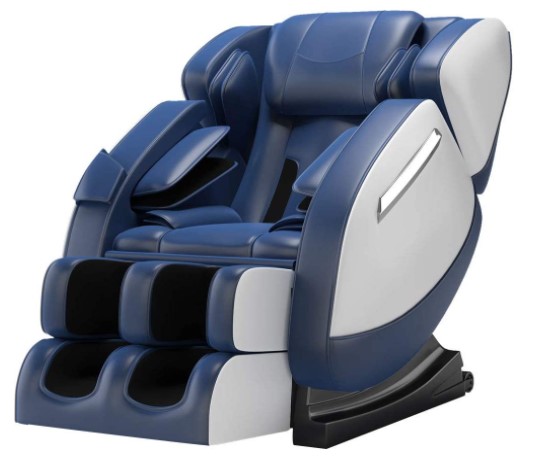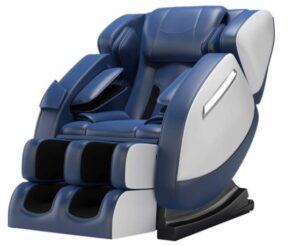 This is the best option for 24/7 workers in office or at home to experience better massage of the lumbar after actively executing desk tasks or computer research.
The design followed by the chair is exceptional and seems ready to use. Customers who rated this chair five-star are much satisfied with its air pressure massage features that are easy to operate, and even those buying a massage chair for the first time can smoothly run it.
Hence, it helps professionally access more comfort to your life with its appreciated warranty and affordable price tag. (What more do you want?) 
Important Features You Need to Know
While in full form, SMAGREHO provides massage to shoulders, neck, and wing bones, incorporating vibrating rollers and air pressure massagers. It works effectively for people having neck collar surgery and is strictly advised to take complete rest for months.
The body is firmly constructed and upholstered with Faux Leather. You can place it in the living room, bedroom, balcony, and office – as it goes perfectly with every location.
It supports all body weights and heights. You can recline and lay straight, losing your muscles in an ideal position for relaxing while sleeping.
You also can turn on a heating feature integrated at the lumbar region to heal cramps, severe pain, and surgical aches. Pregnant ladies usually need such seats before and after delivery, as it overcomes aches and relaxes stiff muscles by spreading heat waves around the lumbar or waist to encourage flexibility.
Final Views
If your purpose of buying a massage chair is not massaging a single specific body side, you can catch this massage chair to provide ultimate support to the complete body through different modes and regions. It reduces worn-out chances of any features and comes with a long-term warranty!
Pros
Ergonomic massage chair
Full body massage
Bluetooth audio player
8 fixed rollers
6 automation modes
---
Full Body Electric Zero Gravity Shiatsu Massage Chair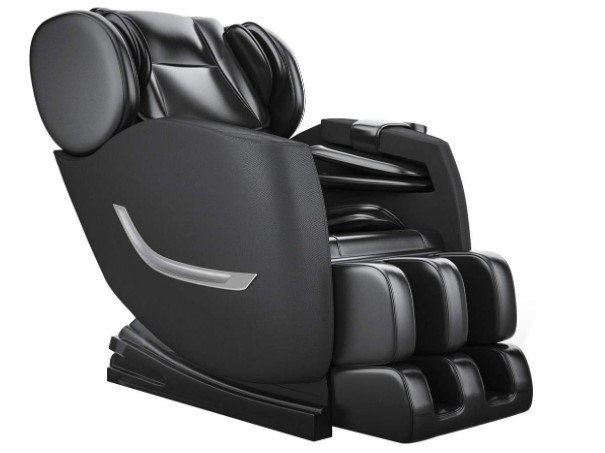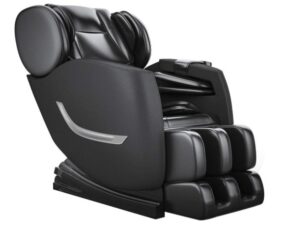 This model is enriched with all the basic features important in making a massage chair reliable. Some features are missing, but it doesn't impact its performance or demand among massage chair lovers!
To promote good blood circulation, its massage features are expert and provide dynamic massage to all body sides. People advised sitting in such a way where the burden on the tailbone is minimum can set this massage chair at zero-gravity by only pressing one button.
Its ergonomic infrastructure made for adjusting feet and resting arms provides the body with an accurate posture. Therefore, the need for accurate posture while sitting is no more a complaint while using this chair!
Important Features You Need to Know
It is called a zero gravity massage chair due to its proactive reclining position, covers the body from neck to toes, and helps reduce stress accumulated over time. This is the best feature that helps reduce heart load that many people feel by sitting in the same position in a seat/chair.
The body is black and designed professionally. You can tilt, recline, and move the chair easily using an electric remote that controls the internal massage mechanism.
For people who don't walk due to calve surgery or are paralyze, the lower body massage features are encouraging. You just have to place your feet and calves in the correct position; the air pressure massagers provide cozy relief while rollers move steadily under feet, which is the best therapy to regulate blood in legs.
Final Views
This massage chair is the best option for relieving stress accumulated over time and mostly highly rated by office workers especially for those who suffers neck and shoulder pain. Its appearance is simple yet professional and offers all necessary features required to give a satisfying massage to the full body.
Pros
Wide dimensions
Professional construction
Built-in Bluetooth
Lower back heating
8 fixed massage rollers
Cons
No warranty of power cords
Can be troublesome for shorties
---
BOSSCARE Massage Chair Recliner with Zero Gravity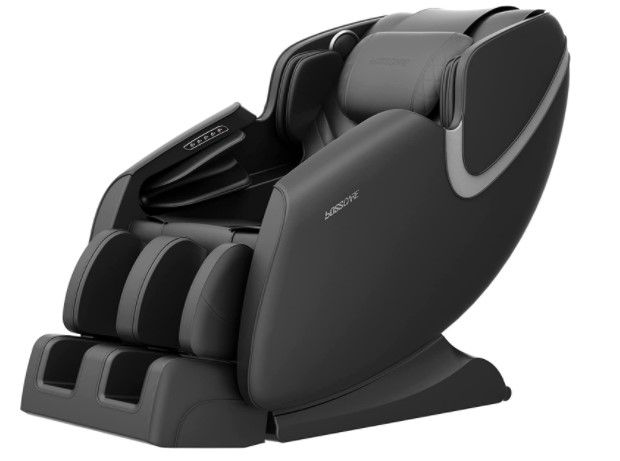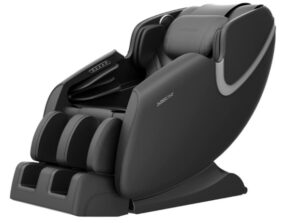 Let's talk about a rocket structure among massage chairs that you would love to place in your office or every location you want to experience quick relaxation. It is a full-black massage chair, and without involving a single component annoying to users, its overall format is highly adaptive and well-managed.
This is the option for you if you are tired of using double-decker or massive massage chair structures. It'll be your finest choice ever. It connects multiple advantages similar to Yoga, Oil Massage, and Relaxed Napping. Hence, it gives you a comfortable time to recover from any pain you face, no matter how long.
Important Features You Need to Know
Don't worry about the number of massage points integrated at the back. Once you sit in it, all your body parts will be covered by a number of airbag massagers and 14 rolling vibrators to better sustain one's blood circulation. It also helps reduce stress and anxiety.
The chair has an ergonomic mechanism that will let you move easily and sustain an ideal posture while sitting. You can set your zero-gravity position to three different levels. It is amazing to know that this feature individually guards your heart against getting any load or heaviness that many experiences while getting in a massage chair.
Last but not least, the heating system at the back is good for the winter massage routine you have built with this chair. It is super-easy to control heating at the back and each feature using a remote controller. So just sit and watch!
Final Views
Add this massage chair to your cart because it won't disappoint anyway. It is the best option for those looking for a simple yet smartly designed chair to place in their professional cabinets. Hold it up, and you will explore exactly what you want!
Pros
Eco-friendly material
Easy to control features
Giftable and multi-functional
Bluetooth music player
---
Full Body Electric Shiatsu Massage Chair Recliner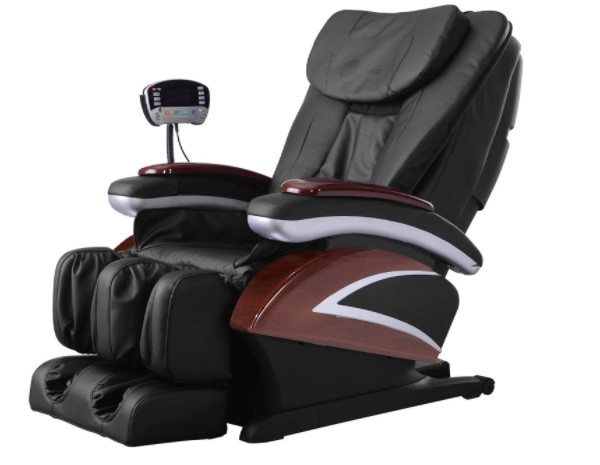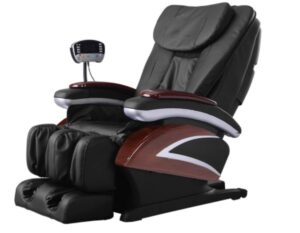 Apart from some damp performing features, this chair is known for more than 9 programs and 7 modes of adjustment while massaging and provides the ultimate interface for scanning all body dimensions (weight, spine length, etc.) through a computerized panel separately standing on one armrest.
Next, to perform professional massages, this chair has a different appearance where leather is not fitted over wooden or steel structure; it's instead loosely applied to provide comfortable seating for pain sufferers.
Important Features You Need to Know
Its adjustability score is really appreciated. You get a completely personalized massage experience with 3 zero-gravity positions, 4 pressure modes, and 7 intensity modes that collectively make this chair a convincing model.
Whenever a person gets in the seat, it scans/monitors the weight of the person and spine's length, and accordingly provides the support and massage to all body sides, knowing where exactly the bones are located and how to reduce personalized resistances.
Being a highly authentic massage chair, it also offers a manual massage feature in which you control your massage the way to want. From around the neck, shoulders, arms, and legs, you will see a total of 21 airbags and around 14 rollers to conceive high-rated massages for users.
Final Views
Full Body Electric Shiatsu Massage chair is the best option overall, except for some features it doesn't support. It can act as the best performer with the elderly because the complete scanning and automated pattern assist senior users in relaxing on it manageably.
Pros
Adjustable massage chair
Good heat therapy
Computerized body scanning
Diversity of massage modes
Cons
Can break easily
Not much-satisfied customer service
---
OWAYS Rocking 3D Massage Chair – Best for Back Pain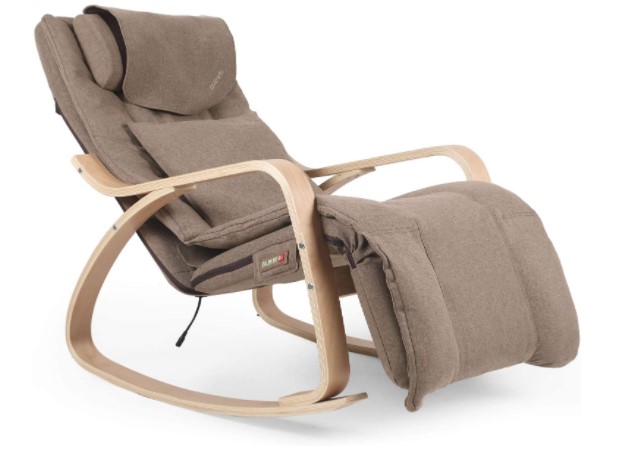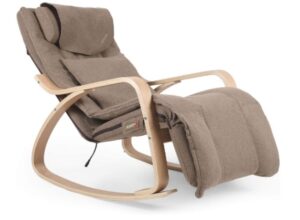 It is a massage chair that will confuse you as well through its body which doesn't match other heavy structures of massage chairs we have reviewed above. But where it is different in design, its features are more unique, which will trap you on an affordable budget!
OWAYS 3D massage chair has an extremely legit warranty of 10 years, and throughout this duration, users can anytime call customer service. This support involves the replacement of integrated features and undetached components such as pillows.
The chair can be a recliner and massage chair at the same time. It keeps all machinery hidden inside its cover hence provides 3D design standardized for placing on any location in the home. You may even place it near the swimming pool, just like beach Adirondack chairs for enjoying sunny winters while having an excellent body massage.
Important Features You Need to Know
The body of the chair can feel simple, and the features too. But this is actually where your money is invested generously. This chair has kneading nodes that put moderate pressure for circulating blood in areas closer to the chair.
Its reclined position directly provides relaxation during massaging and eliminates excessive burden on muscles and tiredness around joints. Therefore people who are specifically recommended to buy a massage chair to get rid of back pains due to sciatica, scoliosis, and tailbone can consider this rocking chair confidently.
By skipping to its design, the skeleton is made of wood that seems classic and stylish to place in any location you want. The pillows are not ordinary and are filled with foam where massage tools are integrated. This makes the entire chair look extremely smart, and so it performs its functions.
Final Views
It is among the most appealing massage chairs, which come under the budget of $1000, and provides style plus excellent massage features and dimensions!
Pros
Massage rocking chair
Have deep kneading massage nodes
Highly affordable
Wooden structure
Lightweight
Cons
Doesn't provide armrest cushioning
Seatback cannot recline forward
---
Best Choice Products Faux Leather Electric Massage Recliner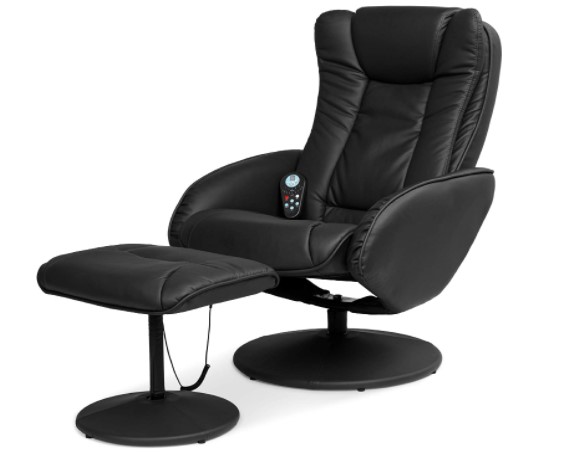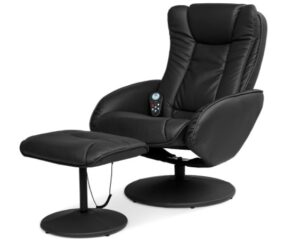 It is the most modern form of massage ergonomic chairs we have reviewed for under $1000. The capabilities to provide better massage for the lumbar, shoulders, and arms in this chair are good enough to go with any body weight and size.
If you don't like heavy padding across armrests and also don't want to sit in a completely paddy and deep seat of common recliners, this is such an amazing option for you.
It seems like a managerial chair from the backrest while the base is adaptive to stick firmly on the ground, hence maintaining gravity for all weight types.
Important Features You Need to Know
Just look at the pair of chair and footrest that are separate and not linked in the same template to make a true blue relaxation time. The only chair is double layered with comfortable padding and upholstered with easy-to-clean leather. So you can consider it to be placed anywhere or specifically in your living room to add in its decoration and elegance.
When we take a seat, the wireless remote provides nearly 5 pre-programmed massages, 9 strength levels, and 2 tones to make the most peaceful lounging activity possible. Having these features will never distract your aim of experiencing quality time.
The assembly is also simple and can be done within 3 quick steps where firstly you attach a massaging ottoman footrest with the chair's base, secondly connect all wires with the base from the seat, and third you're all set to have a seat and there your journey smoothes!
Final Views
If you want to add some quality furniture set in the lounge or living room for back pain, this Faux Leather Massage chair is a convenient option. The sleek chair design and separated ottoman stool for footrest are all that you can find in a qualified massage chair.
Pros
Massage and heating chair
Double-padded furniture
Detached ottoman footrest
Comfortable recliner
---
Esright Massage Recliner Chair – Heated Composite Materials Ergonomic Chair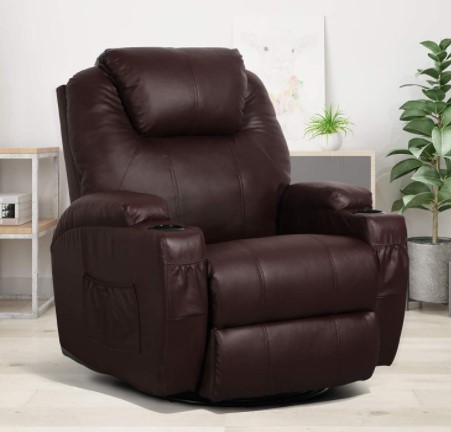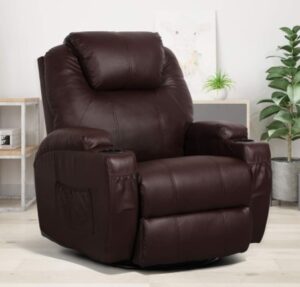 This massage recliner is highly manageable and unlike those big structures of massage chairs, it is simply understandable and lightweight to place anywhere you want – whether temporarily and permanently.
The overall structure is padded and each section such as the backrest, armrests, and footrest has firm support through a wooden frame and steel tilting and reclining mechanisms.
If you are a recliner lover and only give them priority over other furniture types, you can consider this massage recliner and upgrade your relaxing time like never before!
Important Features You Need to Know
This recliner chair has height compatibility for users around 5'1″-5'9″ – hence doesn't support taller people who are 6 or above.
The reason most people choose recliners is their reclining angle which can turn a simple sofa-looking chair into a bed position so that the user if is a patient of herniated discs can have proper back support. Same in this recliner, you will get a 140° manual control reclining feature which is highly encouraging for the elderly as well as for youngsters to extend their spine and also relieving muscles through ultimate deep massage support.
In order to control all of these features, including 5 deep massage vibrating nodes at the back and a heating feature in the lower back, a hand remote controller comes along the box. It has all points explained with images so that even those miles away from technicality can simply understand and use it right away after assembling!
Final Views
Esright Massage Recliner Chair is best for the elderly as well as for youngsters to get equally comfortable from within the seat and also the deep massage experience controlled by a simple, easy-to-operate hand controller.
Pros
Ergonomic recliner massage chair
Thick padding
5 relaxing functions
2 cup holders + storage bags
360-degree swivel
---
FOELRO Massage Chair Zero Gravity Full Body Shiatsu Recliner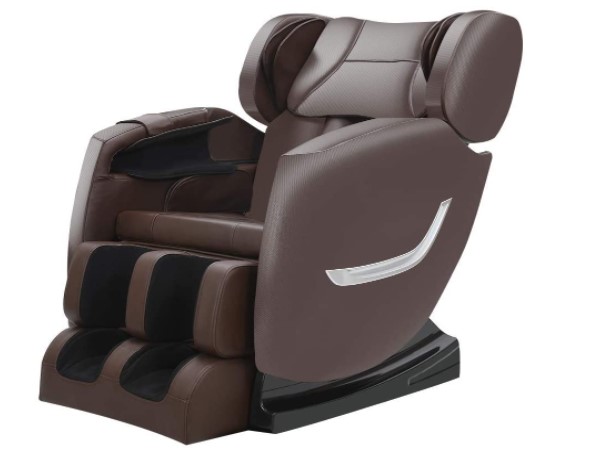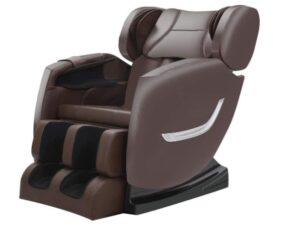 This recliner comes below $1000 and has a satisfying long-term warranty that will maintain a stigmatic comfort to last for years. Buyers reviewed it as an all-in-one option supporting more than a dozen massagers located on different sites in a seat.
Its unique structure attracts users of all ages. The outer covering feels skin-friendly and the padding inside is genuine polyester. It overall makes a position for its user in which there are least difficulties and a bunch of advantages are possible.
Since some features are missing, but the all-inclusive look completes your sitting posture which is no doubt what we all seek to get from a massage chair at the end!
Important Features You Need to Know
The chair is confident to provide actively better support to all body sides, including headset, arms, legs, wrist, thigh, legs, and feet. You can elevate the footrest when at a zero-gravity position and professionals also recommend putting yourself in a posture where no pressure is being transmitted to the spine or other body sides.
Recliner the seat to a considerable extent and lay down while experiencing lumbar heat in winters. It is so far everyone's favorite thing to do while sitting in a massage chair.
The massage in this chair comes from equally attached airbags and around 8 rollers located in the backrest or under feet. This combination like other massage chairs enables blood to circulate evenly throughout the body and hence it reaches areas where due to less blood circulation pain initiates and stays for a long term.
Final Views
It is a super-effective recliner massage chair with faux leather outer upholstery making it reliable while touching and using. You have all massage types in this chair with an in-built Bluetooth audio player – all come under an affordable budget!
Pros
Zero-gravity 3 positions
Ergonomic design
Faux leather upholstery
Armrest linkage system design
Durable
Cons
Shipping can be delayed
Rollers don't have enough padding
---
TinyCooper Massage Chair – Best Cost-effective Chair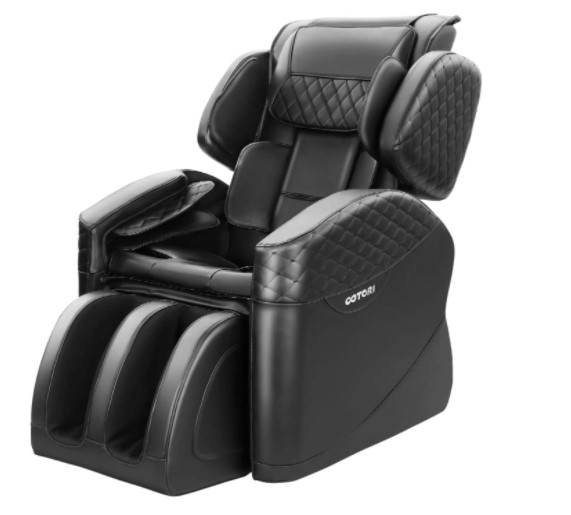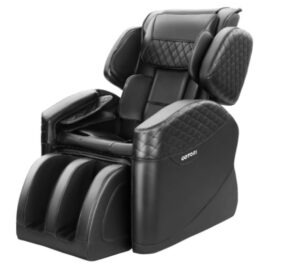 This chair is highly cost-effective and beats expensive ones due to its incredible features you will count just after using it for once.
The design of the chair is easy to understand and there are no such outgrowing panels and levers that will trouble you understanding how to operate with it.
Around 32 airbag massage areas are located throughout the seat, involving a back touch of rollers to deeply massage tendons and muscles. This collectively will make you confident in your investment, and in the end, you will get a healthy posture using ergonomic features installed in it.
Important Features You Need to Know
TinyCooper massage chair is highly adaptive and any user looking for comfort coming through massage in order to get supreme relief can buy it. Its leather covering is pleasant and doesn't bother your skin type (as some are sensitive for leathers).
You can rotate this massage chair in any direction due to its 360-degree swivel. Same at the base, you can uplift footrests when reclining the chair to set it in zero-gravity position. This maintains weight while lifting your legs up and makes it equivalent so that the heart doesn't feel loaded in this posture.
It is a fine combination of 3 years warranty, 3 massage modes, and 3 levels of airbag strength. You can enhance the charm of any location you are placing it in for your convenience.
Final Views
It is an ideal chair that everyone can buy without being worried about warranty and incapable features. You will get a simple model in two boxes, after that it's all set to put your stress down and elevate your health!
Pros
Pocket-friendly budget
90-degree reclining
360-degree swivel
Good for back pain
10 zero-gravity stages
Cons
Reclining can be stopped after 2 years
Headrest can cause trouble
---
FOELRO Full Body Massage Chair – Zero Gravity Shiatsu Recliner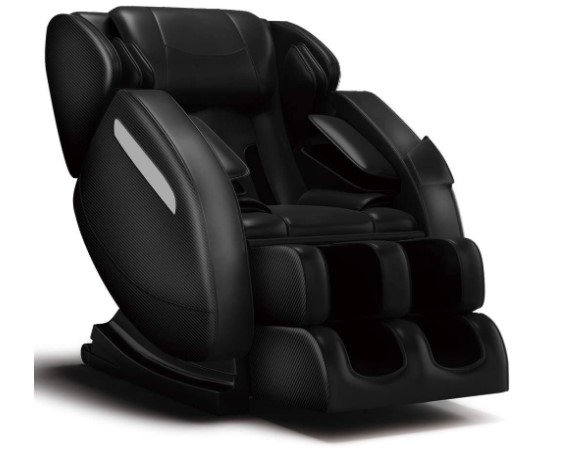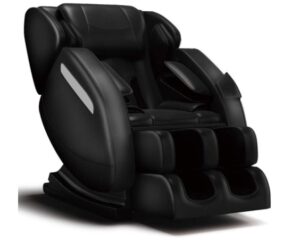 It is another zero gravity full body massage recliner packed with a bunch of features that are integrated into its seat. This chair massager has 8 massage rollers added in the backrest which through various schemes provide medicated relief to shoulder, buttocks, and spine.
It is also an amazing option for people who have back aches problems all the time due to any surgery or shock at the spine. You can simply get in it, recline back and sustain a zero-gravity position, then turn on all massagers around and under your feet to experience a complete package of relaxation.
Important Features You Need to Know
The chair has good dimensions of seat depth, height, and backrest. You can fit in it easily, it doesn't matter the size and weight you got. This massager has a weight capacity of 380 pounds which is no doubt a firm deal that anyone can purchase confidently.
Its 8 rollers, heat therapy, and airbags for massage carry out comfort for around 10 body parts including lumbar, neck, back, waist, shoulders, arm buttock, sole, and leg.
Don't get in a fluster if your kind of massager is not a remote controller. This massage chair has a unique remote control on which a screen is present which notifies all features running and curing which direction of your body.
Final Views
You can just simply get it in the home to enjoy a good sitting time for available less than $1000 price tag.
Pros
Humanization design
Bluetooth Audio connection
Great zero-gravity recliner
High-grade synthetic leather
---
Zero Gravity Full Body Massage Chair Recliner – Full Body Air Massage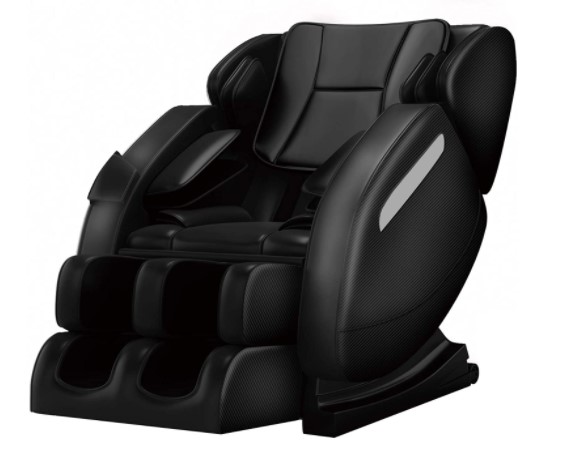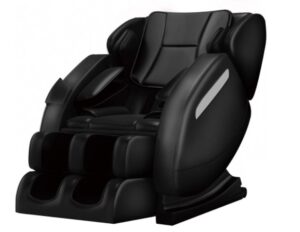 For filling your space with a massage recliner that is more suitable to move from one location to another or is lightweight and affordable, FAVOLCANO Zero Gravity Full Body Massage Chair is the best option to consider.
This recliner has all the basic features to support maximum types of surgeries. It goes perfect with daily relaxation, office work, exercise recovery, and taking naps.
The frame is ergonomic in which you can adjust armrests, height, and backrest. Along with it, the chair has appropriate sites for roller massage and airbag comfort which you can feel mostly around legs, feet, neck, shoulder, and lumbar.
Important Features You Need to Know
In a sectional view of this massage recliner, the upper body is strong and upholstered with faux black leather. Seat, arm, and shoulder templates are designed which cover the body from areas where rollers' movement delivers maximum pressure. This pattern of massage chairs helps to scale up health and position while sitting and laying down.
The base is also concrete as the complete structure is made of iron. You will see that footrests and leg-rest spaces are equipped with a good number of airbags that fit your leg and put pressure over calves and under feet to compensate for pain and reduce it.
Its exceptional feature is the waist heating feature which is really good at working. As soon as you get in the seat, all the components of massage perform actively to support each and every side of your body with a medicated/relieving massage.
Final Review
Considering this massage chair can be very effective for lower back and waist aches due to its ultimate waist-heating feature, and a lot more qualifications.
Pros
Full body massager
Zero gravity performer
Affordable
Professional design
Cons
Warranty is not sure
Heating feature could be intense
---
Things to Consider Before Buying the Best Massage Chair Under $1000 – Buyer's Guide
Since massage chairs are exceptional and more advanced in features than other sitting furniture we have in the market, it makes them expensive as their quality and feature's list moves up.
By knowing the most common features in a good massage chair, you can measure which elements are important to must-have in the best massage chairs under $1000 you are choosing for your eternal comfort and constant medication.
Let's check out which components you need to ensure while buying a massage chair that is cheaper but at the same time promises to provide appreciated features:
Customer Service
This is the first thing you need to ensure how actively you will get customer support if any trouble occurs with the chair you have just brought.
The support insurance must include immediate attention to fractures developed. It is a highly crucial step because cheaper chairs are usually fraud and come with almost no surety of customer care.
Massage Features and Modes
Cheaper massage chairs can have fewer options installed for constant massage support. Read the description mentioned along with the product to check out how many rollers, airbags, and vibrators are present. Also, check their presence and area of support.
If the chair has sufficient capabilities to maintain smooth massage, you will get shoulder, neck, calves, legs, foot, lumbar, and buttock areas covered with appropriate padding and good massage points.
Warranty
Warranty is usually less attractive for products/massage chairs that are cheaper. It can be less than one year or more than 5 years – depending on the quality it has.
Make sure the chair you are choosing has good warranty, which is the key to product longevity. And it also provides payback surety in which your money returns to you back within warranty.
Cost
As long as features are good and supportive for your back and for your full body, you can get a reliable and totally furnished massage chair for under 1000 dollars.
Don't waste money on those models that support almost the same features that you can also get in ones that come under pocket-friendly budget. Just go through basic chassis, massage nodes, and management tools. If they are supportive, you can buy an all-rounder massage chair with guaranteed support!
What Questions are Frequently Asked before you Buy the Best Massage Chair under $1000
What is a massage chair and why should I buy it?
Massage chairs are specialized chairs used by patients facing sciatica and scoliosis problems due to which they need vibrating support at the back in order to ensure muscle flexibility and good blood circulation.
These chairs have a number of features, and apart from being available only to patients and elderly, anyone can buy it for spending quality time by supporting complete posture.
What is the zero-gravity position in massage chairs?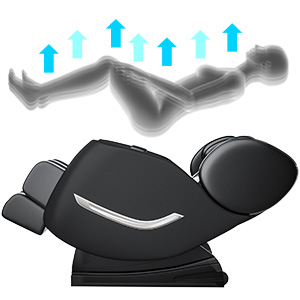 Zero gravity is a position of a chair when its backrest is reclining backward and the footrest moves upward to balance the body in the middle where we feel no weight we have.
This position has many advantages, but the most popular is that your heart feels less loaded and encourages its functions to be done properly.
When a massage chair becomes disadvantageous for you?
Many of us often think about when a massage chair becomes detrimental to health? It becomes disadvantageous due to overuse because muscles could lose their flexibility and develop a stiffness state where instead of getting positive impact on health, we get negative impact of over-massage!
Conclusion
This is all that you should know before buying the best massage chair under $1000. The list of reviews we explained has authentic products that fulfill the requirements we mentioned in the buying guide. So you can confidently read their descriptions on the product page as well to ensure quality standards.
If your budget is not so high and you really want a good massage chair that helps you restore flexibility and agility in muscles and body, we recommend going with the first one Real Relax Massage Chair, as it's the option in the stock.
Read Related: