We are supported by our readers. If you make a purchase, we may earn a small commission at no extra cost to you. Learn More.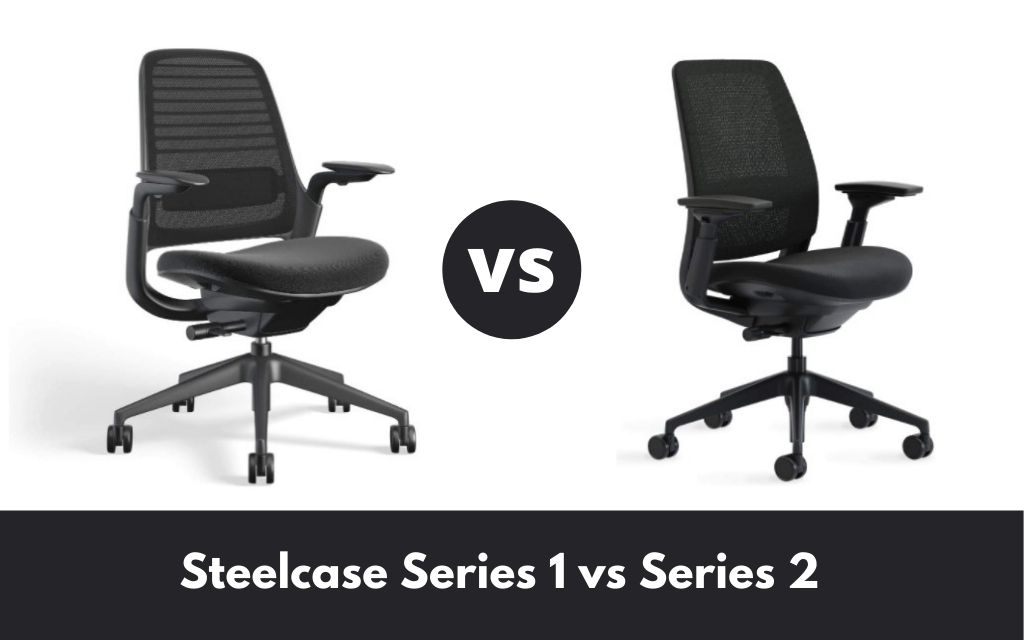 Steelcase is ranking with a number of reasons among customers today. It being a trusted furniture brand is presenting chairs that can solve medical complications related to normal physique. Therefore, people of all ages and different intentions (specifically office workers) could find better possibilities by investing in Steelcase.
Its Series 1 and Series 2 products have gathered their own ranking in the market. Their ergonomic features and flexible structures are resilient and come at an affordable price. The sturdiness and grip over lumbar are another amazing factors that pull great attention. So with that confusion of you to decide which chair should you invest in, we have compared Steelcase Series 1 with Series 2.
This comparison article is made to help you buy the best chair to use in the office or at home, wherever you need.
Although both chairs have many features and components alike. But by going down into their specifications, we have many differences to explore. Let's have a look at the details below!
Comparison Table: Steelcase Series 1 Vs Series 2
| | | |
| --- | --- | --- |
| | | |
| Specifications | Steelcase Series 1 | Steelcase Series 2 |
| Chair Width | 23.5″ – 27″ | 27″ |
| Chair Height | 36.5″ – 41.25″ | 38″ – 42.5″ |
| Seat Depth | 15.5″ – 17.75″ | 14″ – 17.75″ |
| Adjustable Armrests | Yes | Yes |
| Adjustable Headrest | No | No (add-on) |
| Tilting and Reclining | Yes | Yes |
| Mesh Back | Yes | Yes |
| Adj. Lumbar | Yes | Yes |
| Warranty | 12 Years | 12 Years |
| Air LiveBack(TM) Technology | No | Yes |
| Price | Check Latest Price | Check Latest Price |
Things To Compare between Steelcase Series 1 and Series 2
Designs
Both the Steelcase Series 1 and the Steelcase Series 2 are extremely comfortable work chairs. However, the Steelcase Series 2 is designed with ergonomic principles in mind to ensure that you stay comfortable throughout your workday without straining your back. The Series 2 features a multi-point seat mechanism, which allows for better lower back support and helps distribute your body weight evenly over the chair.
Both chairs feature adjustable lumbar support and come with a free annual maintenance program to ensure that your Steelcase Office Chair remains in an optimal condition at all times. In addition, both chairs feel firm and make it easy to find a comfortable sitting position.
Ergonomics
The biggest difference between these two desks is their ergonomic design. Series 2 has been specifically engineered to promote a healthy work environment, while Series 1 is lacking in this area.
The curved shape of the Series 2 desk allows you to sit at a comfortable, neutral angle at your desk. This reduces strain on your arms, hands, wrists, and back throughout the day.
Series 1 has a straight edge that promotes bad posture when you are sitting at it for long periods of time. The lack of some ergonomics is one of the biggest downfalls to Series 1 over Series 2. While there are many different desk shapes, Steelcase has done extensive research to identify the best one for long-term health.
Weight Limit/Capacity
When it comes to the weight limit or capacity, there is no difference between the two versions. Both have a limit of 400lbs.
They provide wide seat dimensions to better support all weights and heights. The durable composition or material used also make these chairs survivable. The weight capacity maintains your body and never puts yourself at risk of any fall or injury.
Material Used
Steelcase Series 1 and Steelcase Series 2 are both made of high-quality materials.
Steelcase 1 is pretty simple and has collectively all essential components to support a luxurious sitting. Its parts include pneumatic seat, hard plastic body, and meshed backrest.
However, Series 2 is slightly better because it is made of stronger, more durable material as it provides one step ahead of lumbar support than Series 1. This makes it less likely to warp or damage over time.
Colors and Variety
Steelcase Series 1 and Series 2 are both available in a wide variety of colors. This is perfect for those who want to personalize their workspace and make it their own. With so many options to choose from, you're sure to find the perfect color for your needs.
However, the colors available in Steelcase Series 1 are:
3d Microknit Canary/Cogent Connect Canary
Blue Jay
Concord (Smooth violet)
Graphite
Licorice
Malt (brown-red)
Nickle
Royal Blue
Scarlet
Tangerine
Wasabi (Ripe grape)
Colors available in Steelcase Series 2 are:
Back Color
Graphite – 6295
Nickel – 6249
Licorice – 6205
Malt – 5U25
Upholstery Color
Era – Olivine (5ET3)
Oatmeal (5ES2)
Blue Nickel (5ER2)
Cobalt (5ER0)
Frame Color
Black (6205)
Seagull (7243)
Lumbar Support
One of the most important factors to consider when purchasing an office desk is the level of lumbar support that it offers. Steelcase Series 1 and 2 both offer this important feature, but Series 2 definitely provides more support. This is because it has an additional curve in the backrest that helps to contour your spine and provides extra comfort throughout the day. If you are looking for a desk that will help you maintain good posture, then Series 2 is definitely the better option.
Similarities
Other than a few inches, there are no differences between the two. Though they look slightly different, both have 360° spinner wheels and as such, they can be easily maneuvered as needed thanks to those wheels.
The stand is very sturdy and stable thanks to the fact that it has a criss crossed beam and steel panels. The seats are made of high-quality polyurethane foam, which guarantees extreme comfort for those using it.
Thanks to its angular design, you can place it in your office or take it with you wherever you want!
Comfortability
Seat Comfort
About the comfort of your seat, Steelcase Series 1 and 2 are neck-and-neck. Both have been ergonomically designed to provide optimum support for your back and spine, making hours at your desk more comfortable. They also both come with adjustable height and tilt, so you can customize the desk to fit your specific needs.
Series 1 does have a slight edge over Series 2 when it comes to fabric comfort. It has a luxe leatherette upholstery that makes it softer against your skin. However, Series 2 makes up for this with its waterfall edge design. This feature allows for more space between your thighs and the front of the desk. This is perfect for those who have larger thighs and/or want to keep their legs from touching when they type.
Armrest Comfort
When it comes to armrest comfort, Steelcase Series 2 takes the lead. This is because it offers a wider range of adjustability, making it easier to find a comfortable position that works for you. It also has a more padded surface, making it more comfortable for long hours at your desk.
However, Series 1 is also not as neglected. Its 4D armrest movement makes it comfortable for all types of use. It only lags behind Series 2 due to flexibility in adjusting armrests that is professional in Series 2 and makes armrests easily moveable with almost zero effort.
Adjustability
Lumbar Adjustability
Series 1 and Series 2 are both great options for those who are looking for a desk with lumbar adjustability. However, Series 2 takes it one step further by providing an additional inch of height adjustment. This makes it easier to find the perfect position for your back, making it more comfortable to sit at your desk for hours at a time.
Height Adjustability
When it comes to height adjustability, Steelcase Series 2 is the clear winner. This desk can be raised from 28 inches to 46 inches, while Steelcase Series 1 can only be raised to 40 inches. This makes it easier for you to find the perfect height for your workspace and prevents you from having to crane your neck at an uncomfortable angle.
Tilting and Reclining
Steelcase Series 1 and Steelcase Series 2 are both great options for those who want a desk that can tilt and recline. However, Series 2 offers a few more adjustments than Series 1. For example, while both desks can recline up to 15 degrees, Series 2 can also adjust the tension of the recline, making it easier or harder to move back and forth. It also has a lock feature that will keep the desk in place at any angle you choose.
Warranty
Both Steelcase Series 1 and Series 2 have a 12-year warranty. This means that you can count on the quality and durability of these desks for a long time to come.
One other benefit of buying from Steelcase is its effective customer support which ensures that you are connected to a global brand. The data and complaints are entertained. Therefore, ratings for both chairs are significantly making sense.
Pros of Series 1
Advanced Weight-Activated Mechanism
Can be set forward or backward
Seat height adjusts within a 5" range
Provide additional lower back mount
Cons of Series 1
Flimsy Armrests
Limited options and amount of recline
---
Pros of Series 2
Air LiveBack Technology
Weight-Activated Back Tension
Dynamic Seat Cushion
Comfortably fit the curve of your back
Cons of Series 2
No back height adjustment
Limited tension choices
---
FAQs: Your Most Relevant Thoughts!
Is it worth spending more on the Steelcase brand than others?
There is no simple answer to this question. It depends on a number of factors, including the type of work that needs to be done and the budget of the company. In general, however, Steelcase is a high-quality brand and is worth the investment.
What makes Steelcase series 1 and series 2 competitive?
There are a few things that make Steelcase series 1 and series 2 chairs competitive. First, they are both ergonomic chairs, which means that they are designed to provide comfort and support to the user. They also have a number of features that make them stylish and adaptable to different types of work environments. Finally, they are both reasonably priced, which makes them a good value for the money.
Do I need a desk chair with a headrest for office work?
No, you don't need a desk chair with a headrest for office work. While a headrest can be helpful for some people, it is not necessary for most office tasks.
Can we add headrest to steelcase 2?
Yes! Headrest can be added to the Steelcase series 2 if needed. It will make the chair more reliable to deal with neck and shoulder pain. Further, you will develop a design of the chair which is overall an optimum place to sit and concentrate on work, without getting a burden on the collar region and spine!
Which Should You Choose?
Steelcase is one of the top brands in the industry. They offer a wide variety of products for the modern workplace, including their popular Series 1 and Series 2 desks. While both desks have their pros and cons, the Series 2 is the clear winner when it comes to ergonomics.
Another significant difference is lumbar support. Steelcase Series 1 and 2 both offer lumbar support, which is great for your back. However, Series 2 takes it a step further by adding an extra cushion for even more support. This can make a big difference in your comfort level during long work hours.
Hence, Steelcase series 2 can level up your game of comfort more manageably and by providing extra features. So if your budget is good and you want to invest in the right product, Steelcase Series 2 is worth consideration!
Let's checkout other comparisons: