We are supported by our readers. If you make a purchase, we may earn a small commission at no extra cost to you. Learn More.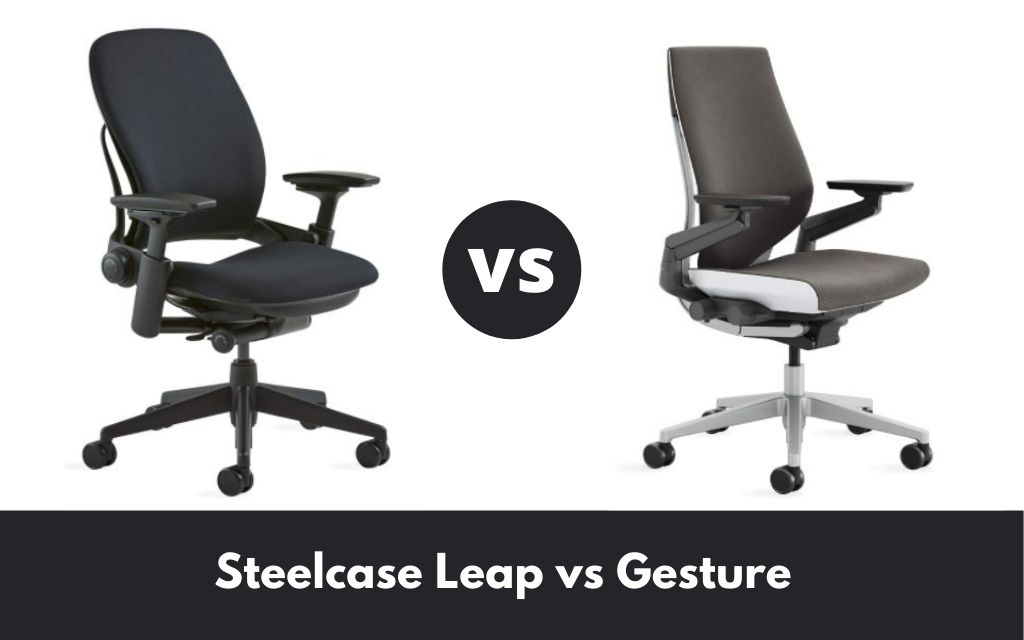 Ranking on the top of the list with Herman Miller, Steelcase has gathered remarkable attention from office workers worldwide, after launching dynamic features in their office chairs as a recent update. Its chairs are popular for providing proper medical treatment against most of the health issues that often occur as a result of long term sitting or other reasons people face at work.
This constant upgradation in Steelcase products, that are now remodeled into extremely professional office chairs, have made all of us think about which chair should we buy or put on the second choice.
In this competition, we have Steelcase Leap vs Gesture discussion, to help you find out the best chair from the stock!
This comparison is made to let you understand the difference between Steelcase Leap and Gesture. Both models are crossing each other on multiple factors. Their functions and features are approximately similar and help to support the body through lumbar, spine, and shoulders equally.
Many have found their mechanism and installment almost alike. But the Steelcase Leap is a classic office chair that has been around for many years. It is well-known for its comfortable and supportive seat. Whereas the Gesture is a newer model that was designed to be more ergonomic than the Leap.
Here is more you can find what makes Steelcase Leap V2 and Gesture best alternatives of each other!
Comparison Table: Steelcase Gesture Vs Leap V2
| | | |
| --- | --- | --- |
| | | |
| Specifications: | Steelcase Gesture | Steelcase Leap V2 |
| Weight Limit | 400lb | 350 – 400lb |
| Product Weight | 73lb | 45.8 lb |
| Composition | 3D knit fabric | 3D knit fabric |
| Moveable Armrests | Yes | No |
| Lumbar Tension | No | Yes |
| Width | 22 3/8″ – 34 5/8″ | 27″ |
| Depth | 18¼" | 15.75″-18.75″ |
| Comfortness | Yes | Yes |
| Lumbar Support | Yes | Yes |
| Warranty | 12 Years | 12 Years |
| Price | Check Latest Price | Check Latest Price |
Things to Compare in Steelcase Leap and Gesture:
Available Designs
Let's start from the overall designs and sizes available of both steelcase leap and gesture in the market. Their portability score for moving all required components of the chair is pretty satisfied. However, they don't come in different sizes as their competitors do.
However, based on the long backrest of Gesture, it is an ultimate solution for lumbar pain and helps all height persons in relieving their back stresses. It also has better and wide dimensions than Leap to carry multiple weights up to 400lbs. You can experience extra space if you're overweight because Gesture armrests are dynamically moveable. Since Leap armrests aren't customizable, it still is a comfortable choice if you're not overweight and want a perfect office chair!
Weight Capacity & Ergonomics
The Steelcase Gesture and Leap both have a weight capacity of 400 lbs, which is greater than that of many of their competitors. This makes them ideal for people who are heavier or taller. The only other model that can support this much weight is the DXRacer Big and Tall, but it is significantly more expensive.
Further, if we look at the ergonomic design of both chairs, they both emphasize comfort. The models provide excellent support for your head, back, and neck. The Gesture has the upper hand in this aspect due to its adjustable lumbar system, which can be adjusted according to your preference or posture (some customers complain that their lumbar support is too.
Composition / Material Used
Both the Steelcase Leap and the Gesture chairs are made with a variety of materials. The fabric on the chairs is made with a blend of polyester and nylon, which makes it durable and long-lasting. The foam used in the seats is also made to last, and it retains its shape even after extended use.
The main difference between the two chairs is that the Gesture has a built-in lumbar support system, while the Leap does not. This feature makes the Gesture more comfortable for people who need extra support for their lower back. It also allows you to adjust the position of your lumbar pad.
Colors Variety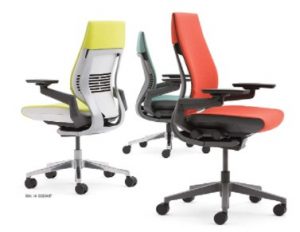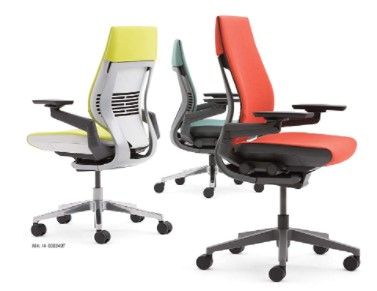 The Steelcase Leap and Gesture come in a variety of colors, so you can choose the one that best suits your style. The Leap is available in six different colors, including black, blue, brown, gray, green, and red. The Gesture is available in nine different colors, including black, blue, brown, gray, green, ivory, red, turquoise, and white.
Fabric and Textures
The Steelcase Leap comes with a variety of fabric choices, including a variety of colors and textures. The Gesture also comes with a range of fabric options, including a number of colors and two different textures.
There are several colors available for the Leap, including black, brown, red, gray, and white. The Gesture comes with fewer color choices but offers two different textures: one has an ultra-modern look while the other is more timeless. Both models come in all four colors.
Comfortability
The Steelcase Leap and Gesture are two of the most popular office chairs on the market. They both offer a number of features that make them ideal for long hours in front of a computer. However, one of the most important factors to consider when purchasing an office chair is to look at comfortability.
Seat Comfort
Both the Leap and Gesture come with comfortable and supportive seats, but they differ in terms of design. The Leap has a more sculpted shape that relieves pressure points, while the Gesture has a flexible seat that automatically adjusts to your posture.
Which chair is more comfortable? This is a difficult question to answer, as it depends on personal preferences. Some people may find the sculpted shape of the Leap more comfortable, while others may find the automatic adjustability of the Gesture more convenient.
Backrest Comfort
The backrest is one of the most important features in an office chair. The Gesture and Leap v2 offer high-end features for this component, but they're different when it comes to comfort.
The Leap has a sculpted shape that boosts comfort and relieves pressure points. It also has a patented LiveBack technology that conforms to your body. There's also a number of extra features, including premium fabrics and a built-in lumbar support system under the seat.
This chair is not as comfortable as the Gesture because it relies on a wide seat for your back and head to rest on.
Adjustability
Adjustability is a desirable feature in office chairs, as it allows the user to adjust the chair to their individual needs. Steelcase Gesture and Leap V2 are two chairs that offer adjustability of different areas of the chair.
They both offer a high degree of adjustability, which is one of the reasons they're so popular. Some of the things you can adjust include seat height, armrest height, and backrest angle. This makes it possible to find a comfortable position that's perfect for your body.
Let's check how they focus on your maintenance!
Lumbar adjustability
The Steelcase Gesture chair has a slider on the back of the seat that allows the user to adjust the position of the lumbar support. The Leap V2 chair has a knob on the side of the chair that allows the user to adjust the position of the lumbar support.
Both chairs are excellent options for those who need lumbar support, as they both offer a wide range of adjustment options.
Armrest Adjustability
The armrest on the Steelcase Leap and gesture V2 can be adjusted to five different positions. This includes a fully extended position where you can find the Leap and gesture V2 sitting higher than most chairs, as well as a retracted position where the armrests are tucked under the seat. But the Steelcase Gesture also features an armrest that can be raised, lowered, or rotated up to 13 degrees of rotation. Hence those who prefer chairs with armrests moving in different directions can choose gesture over leap V2.
Tilting and Reclining
The Steelcase Gesture chair is designed to allow you to recline and tilt back in a variety of positions, which can help you stay comfortable and productive throughout the day. The Leap V2 chair has a similar design, but also includes a number of other features that can help you stay comfortable and productive, such as a five-star base, five dual-tilt settings, and even adjustable lumbar support.
Headrest Support
It was found that the headrest support is absent in both Steelcase gesture and leap V2. This was a major flaw because it was one of the main features that were supposed to make users comfortable.
However, the headrest can be added if it is not integrated. The Gesture back is high and provides support from the lower spine to the upper collar bones. Similarly the leap is good to support the neck and shoulders. But Leap has a shorter backrest that is why the addition of backrest will get your neck the best height.
Warranty
The Steelcase Gesture and Leap V2 chairs come with a twelve-year warranty. The chairs have been designed for comfort, with features that include adjustable lumbar support and a waterfall seat edge. The Gesture chair has also been designed for productivity, with intuitive gesture control that allows users to change settings without leaving their chair. The Gesture chair comes with an adjustable active base, which means you can change the settings without stopping your workflow. Both chairs come with an affordable price tag.
Pros of Steelcase Gesture
Live Back: This chair has a patented Live Back technology, which provides support for your back and even conforms to the shape of your body.
Added Lumbar Support: This chair has an added lumbar support system that prevents any type of back pain.
Adjustable Seat: The seat of this chair is adjustable and can be reclined, making it suitable for those who need to sit at their desk for long hours.
Relaxing Material: The material of this chair is comfortable and relaxing on the skin and on the legs as you recline and it supports your weight.
Build: It is durable and well built with metal casters on the feet.
Cons of Steelcase Gesture
While the Gesture is an excellent chair, it does have a few drawbacks. First, it's significantly more expensive than the Leap. Second, it's not as comfortable for those who want a specific chair for aiding their collar bones.
Pros of Steelcase Leap V2
Stretchable Frame: The chair is flexible and moves according to your position. It provides extension for muscles to feel relaxed.
Durable Plastic: The material used is premium plastic which is hard enough to bear weight up to 350 – 400lbs easily.
Easy Casters: Its smooth casters are friendly for all floors. It runs over carpets and plane ground without giving users any jerk or bumps.
Comfortable Seat: The chair has good dimensions and it is super effective for healing lower back pain being comfortable and soothing to skin.
Cons of Steelcase Leap V2
In spite of having all optimum features, the Leap has two to three features absent in comparison with Gesture. They include armrests that couldn't rotate in different directions where arms go. The backrest is also not a fit for people who are taller and shorter than an average height.
Which one should you buy?
When it comes to the Steelcase Gesture Vs Leap V2, it can be difficult to decide which one you should buy. Both chairs have their pros and cons, but ultimately it comes down to what is most important to you. If you want a chair that is comfortable and has a lot of features, then the Steelcase Gesture is a good choice. But if you want a chair that is more affordable and lighter weight, then the Leap V2 is a better option.
You may like to read: