We are supported by our readers. If you make a purchase, we may earn a small commission at no extra cost to you. Learn More.
Living with regular back pain can be a really hard part of anyone's life. You can't sit, stand, and lay down in the same position for hours as it can lead to the severity building in your spine and linked muscles getting stiff and swollen.
Most of the time the furniture we use plays a significant role in stabilizing and even destroying our comfort. The rigid and un-intentionally built chairs placed in your lounge just for adding beauty in the place will be the primary source to cause this back pain complexity.
Now, what to do? The only solution is to fix your furniture choice – specifically the setup you want to install in the living room or lounge.
We have reviewed below 10 best living room chair for back pain sufferers.
Out of the stock, you can pick your favorite featured recliner chair to keep in your lounge, living room, and bedroom for a comfortable quick nap.
Let's hit the countdown below!
Best Living Room Chair for Back Pain – Reviews
Homall Recliner Chair – Best Overall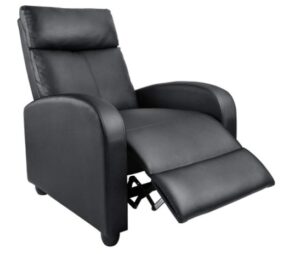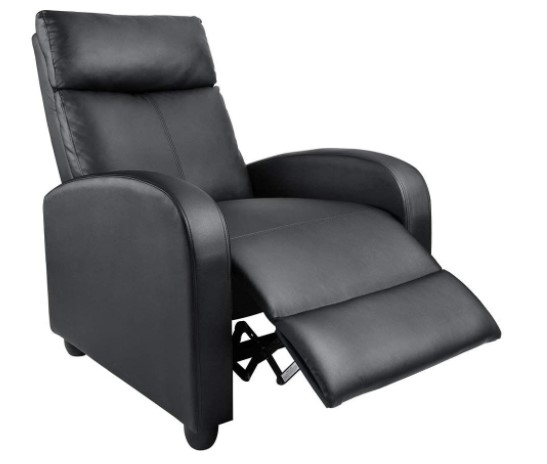 This chair is the best living room recliner in the market and supports multiple features to transfer real comfort to the user all day.
Usually, it is uncomfortable to sit in largely built recliners, having a high backrest and similar giant structures. But the quality of this recliner will never disappoint you even though it has an extra high backrest. It supports good dimensions for all types of height/weight and also provides refined adjustability of different features, such as reclining, tilting, swivel, etc.
Yes, you can place it in the TV lounge or anywhere you want. It is equally superb for all rooms, even offices. Once you grab a few minutes break and want to lay down after a consistent and hectic task submission, just push the headrest backward, and here comes your instant relief!
Important Features You Need to Know
This chair is made of appreciating material that at the same time seems both eco-friendly and skin-friendly. The upholstery on the surface is of PU leather and feels really relieving over comfy and paddy polyester, filled inside the seat and backrest.
The height and width dimensions are supportive for all types of users – no matter what height and weight you got. The maximum weight capacity is 276lbs. (Easy carrier of all weights!)
You also need to not worry if your previous chair was not reclining at different angles while doing different sitting activities. This recliner can be adjusted in between 90 to 180-degree positions of the backrest and gives you three excellent posture stability positions, including reading, TV, and napping.
Final Views
Homall Recliner Chair is a wise choice of furniture to get rid of back pain faster if you face spine aches frequently and most commonly throughout a business day. It's easily installable, rotatable, and adjustable. So yes, Your investment in it is not a loss at all!
REASONS TO BUY
All-in-one choice among recliners
Easy to install/assemble
Great dimensions
Durable
Easy to clean
REASONS TO AVOID
No heating and massage features
---
Flash Furniture BT-7862-BK-GG Contemporary Black LeatherSoft Recliner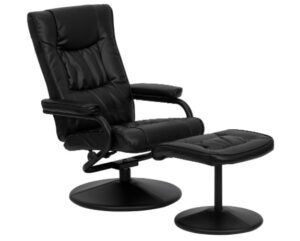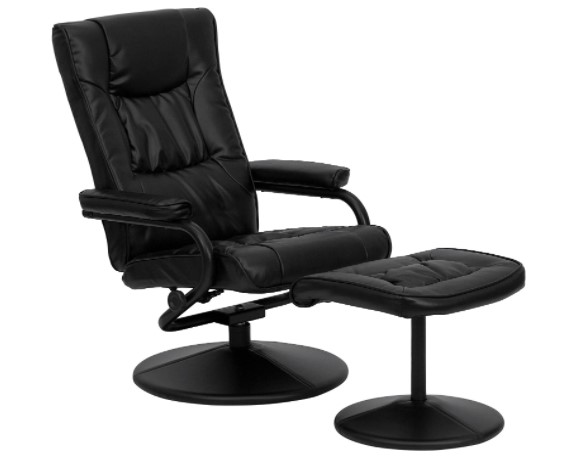 This ergonomic recliner chair is very professional in design and seems authentic for business workers who face seating problems and relevant back pains due to hectic working schedules for complete day progression.
You can also place it in one selective corner of the living room (near the computer desk or book-shelves) as it is an elegant set of a reclining chair and an ottoman forest stool. So it will add uniqueness and also a pinch of modern selection to your living room's overall setup.
It is highly affordable and charges for exactly what it provides. Many reviewed it as a meaningful option for all who want a chair soothing for back posture and entire body edges.
Important Features You Need to Know
This chair is a premium model to get comfortness throughout the spine as the brand Flash Furniture is trusted among its customers due to launching extremely logical furniture designs.
This chair has a knob, conveniently found under the right arm, which takes the chair to a sufficient reclining seat. The knob is linked with strong steel infrastructure of chair and balances the weight due to the tight base grip on the floor.
If we see only seat, it supports tilting and swivel to change the same direction that can cause posture trouble. Sitting in it by elevating your feet can help reduce back pain due to poor blood circulation.
We categorized it as the best chair for living room as it is available in four amazing colors. All colors are easy to contrast with any backdrop of your living room and seem not too bright that can bother its professional look.
Final Views
Those who are strictly advised to take care of their postures (specifically while sitting) can consider this place in the living room to always prefer sitting in it, by adjusting it to a desirable position they find healthy for spine.
REASONS TO BUY
Comfortable ottoman footrest
Stimulate blood circulation
Unique for living room
REASONS TO AVOID
Armrests are not over-padded
Not a good choice for tall people
---
Signature Design by Ashley Yandel Upholstered Power Lift Recliner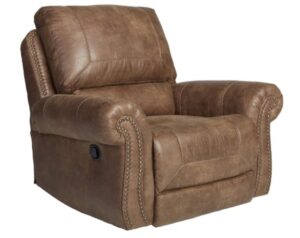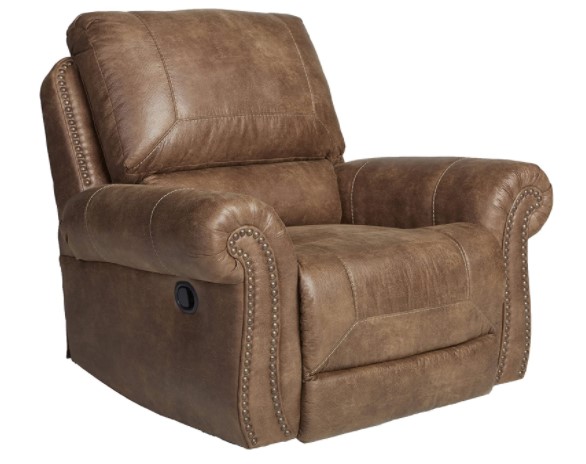 Being elderly draws more challenges to stay activated and flexible because your muscles lose elasticity and become resistant to actively supporting spinal vertebrae, hence can cause more back pain difficulties.
Specifically designed for the elderly, Signature Design by Ashley Yandel Power Lift Recliner has all specialized characteristics to act like the best chair for old people facing common back pain and similar troubles.
Its body seems extra comfortable due to over-padding around armrests, backrest, and in seat. It sounds more convenient when performing multiple important functions such as reclining and lifting up functions automatically. What more could you look for in a chair to support elders?
Important Features You Need to Know
The primary reason we are recommending it to the elderly is its automation in features, specifically powerlifting technology, and dual motor support for performing heavy tasks like a pro.
Once you sit in it, recline it to a desirable position. The mechanism is that the chair takes 110V power for reclining at a maximum angle in one minute.
Its material is also a plus point you can count on for reaching best-out-of-best comfort to minimize back pain. The leather seems PU but it's a strong fabric that is easy to clean and feels good to skin.
Also, the seat is deep from the tail to provide better lumbar position to reduce tailbone pain and support patients with arthritis as well.
Final Views
Choose this chair for any back pain situation, whether you are elderly with common spinal discomfort-ness or a patient getting recovered from spinal surgery. It is elegantly designed, best in quality furniture to place in the living room to experience a never-ever-in-life comfort.
REASONS TO BUY
Stylish and functional
Portable and dynamic
Good quality padding
Easy to assemble
REASONS TO AVOID
Power supply box can malfunction
Remote has no warranty
---
X Rocker Pro Series H3 Black Leather Vibrating Floor Video Gaming Chair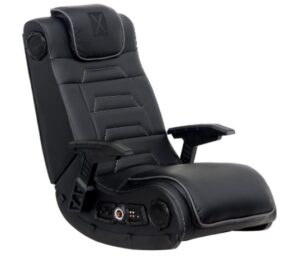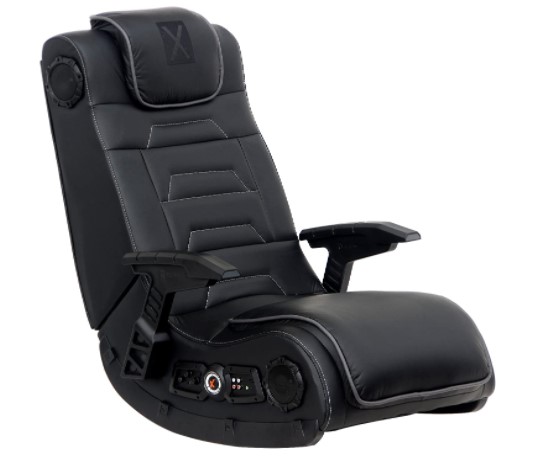 Of course, you can place a lavish model of a chair in living room if your passion is playing video games by sitting in a bright room of your house!
X Rocker is presenting you the Pro Series H3 Black Floor Video Gaming Chair which is such a vibrant collection of furniture for teens, adults, and the elderly to overcome sudden spinal pangs or back pain through its amazing features and cool yet supportive design.
The chair has a human-like backrest designed in a curve. Unlike other typical chairs we know, this chair has no legs to stand above the ground. You simply sit in it and can set back by folding your legs in, which is no doubt a healthy sitting posture while playing video games for hours!
Important Features You Need to Know
For gaming chair lovers who are more enthusiastic about making every moment a thrill, this model is an upgraded format with lots of features installed and integrated with its structure.
It is exceptional for you if you love reading, watching TV, and spending more time playing games on your Sunday(s). The side panels have plugin holes and drives for connecting wires such as mobile chargers, headphones for listening to your favorite music, and enjoying DVD/CD video games.
The surface is also soothing to the skin and is competent. The armrests are not paddy but are designed very close to the seat which ultimately supports your shoulders and never puts you in any trouble to face aches around the neck or shoulder.
Final Views
In a stock of all ordinary looks of recliners, X Rocker doesn't come slow and provides you with advanced experience of sitting. It comes affordable and has more than you can imagine possibilities to sustain your health and entertain you completely at the same time!
REASONS TO BUY
Nintendo Wii, MP3s, DVDs Compatibility
Weight capacity 276lbs
4 forward-facing speakers
Can be connected with more chairs
REASONS TO AVOID
No legs and footrest
Not a recliner
---
Wingback Recliner Chair – Home Theater Seating for Living Room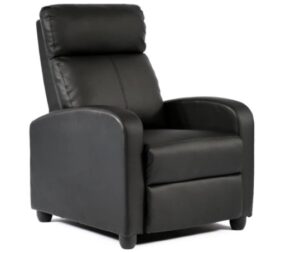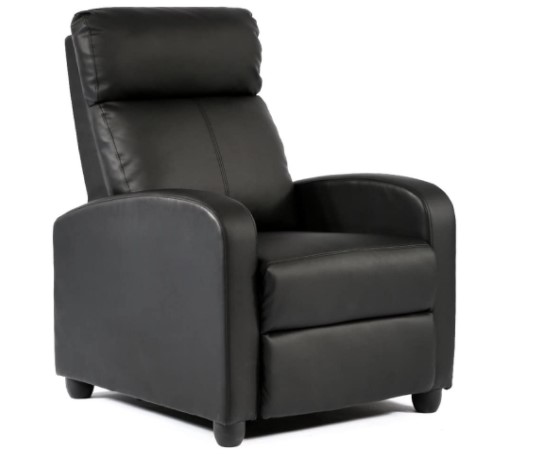 Available in 8 amazing colors, the Wingback recliner chair is the best chair for the living room in the market, which also has good padding and structure for disturbed posture sufferers.
Its design is very simple and has no extra figures to handle and adjust. The mechanism of reclining at three suitable positions and extending body by erecting feet and lumbar is what will entrap you in its simplicity in performance.
This recliner will never feel more technical and over-stuffed with lots of elements by keeping it in the living room. So you can place it with your ordinary sofa set and also by buying four of them with a contrasting table to place in the middle. That would be a fantastic furniture idea with comfort as well.
Important Features You Need to Know
Without using remote and other jargons, simply push the backrest to get a reclined position over an over-padded back-slit to hold your spine and each disc feeling relaxed and safe.
The chair has an overall look of a comfortable sofa with deep support giving padding which is upholstered by a cleanable, sleek PU leather. It can be refreshed by cleaning with a wet cloth dipped in a detergent.
Also check: how to clean a recliner in a simple way
Its framework is made of hardwood which is durable and can be amenable if the recliner has trouble in future.
Moreover, it is lightweight and can be placed from one location to another simply by dragging. The design doesn't bother other chairs in the room. You can add more comfort by placing chubby cushions in seat, as the seat width is wide and supportive.
Final Views
For most of us who don't want an extra burden of recliner and which is convenient to handle as well, Wingback is the best option. It goes with any background perfectly and helps effectively overcome back pain.
REASONS TO BUY
Modern and classic design
Only 2 minutes for installation
Manual recliner
Durable and secure
REASONS TO AVOID
Not an automatic recliner
Doesn't have over-padded armrests
---
GDFStudio Mervynn Tufted Back Fabric Recliner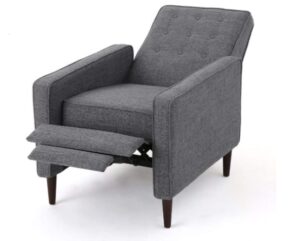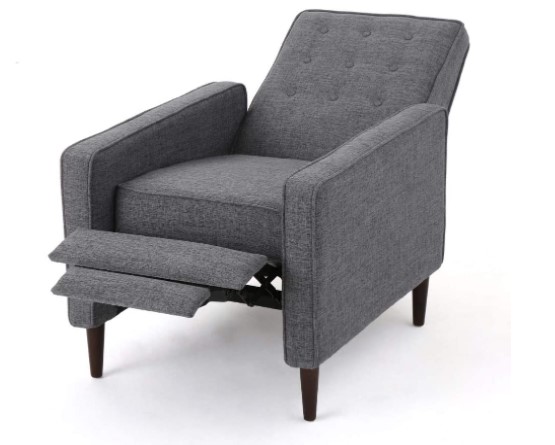 A good product for all using purposes can be the GDFStudio Mervynn fabric recliner. This is absolutely a masterpiece to stabilize normal sitting posture by giving you a generous look to be placed in the living room, among other sofa chairs covered with fabric sheets.
The best part to appreciate in this recliner is its classic design and comfortability score which is measured to provide good pouch-like lumbar support and stalked backrest for erecting spine.
If you want a relaxed chair to place in the library for reading books for multiple hours, this chair has no doubt a brilliant plan for you!
Important Features You Need to Know
The neat and stretched covering of a strong fabric sheet will never make anyone guess that this chair is a recliner until you push its backrest back and feet up on the footrest.
This recliner is padded in a moderate amount of 100% polyester stuff. It, therefore, feels very comfy while touching and laying on it.
The body is hardwood naked from the base and gives the chair an aesthetic and home-like appearance that is really easy to adjust in your living room anywhere.
It is durable and has good dimensions of height, width, and seat depth. No doubt, this recliner is a good choice for all looking to grab a non-leather recliner chair for keeping at home.
Final Views
It only takes a special concentration while cleaning. Otherwise, the model is made focusing relaxation as a priority and users have the least complaints after having this for relieving back pain and shoulder stiffness.
REASONS TO BUY
Good warranty and support
34.25″D x 27.25″W x 38.00″H
Refined finish
100% polyester padding
REASONS TO AVOID
Not remote controlled
Seat was narrow for some customers
---
Domesis Renu Leather Power Lift Chair Recliner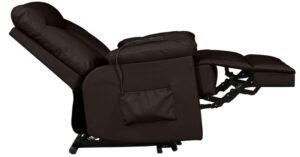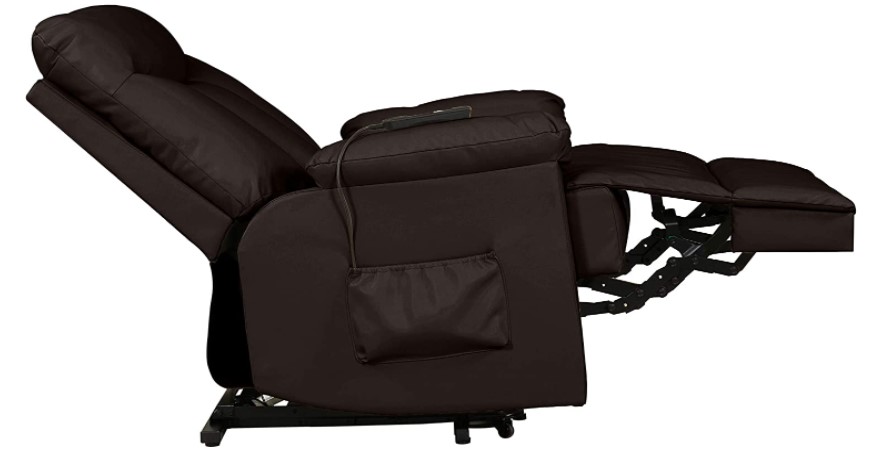 Another very professional power lift recliner is the Domesis Renu chair which is perfectly composed retaining all features functioning for long term.
If your budget is low and you want an all-rounder recliner without massage features, this recliner is the best chair for the living room, lounge, and bedroom.
The chair is evenly covered with Renu brown leather which is 100% pure and seems really around your ease. You can recline it using a wired remote controller connected to the reclining and lifting up technology and can be placed in the side pocket of the chair that has good room for putting in things.
Important Features You Need to Know
The traditional layout with an eye-catching design will stick your heart with it. You won't suppose such wonderful furniture can be this pocket-friendly.
Including a sturdy frame, you can presume this chair to serve for many years before giving any symbol of damage or wreckage. And what's still more valuable, it manages tons of weights and operates properly with all sorts of bodies, so it displays as an attractive option for more choosy customers.
The most satisfying of all is that you'll demand no more than several seconds to construct, interlink, or adjust if needed. Being humble and preserving an area in your home was never such a comfort.
Whatever you could want, you own it with this chair. You'll even receive a meshed grain leather material and different structure that will drive you to another level of luxury.
Final Views
This chair gets you an amazing ergonomic relief with fully stuffed high-density froth for a luxurious impression that will encourage you to dig long Sunday evenings in front of your TV without any harm to posture.
REASONS TO BUY
Two-button remote controller
Excellent customer support
Good warranty
Straightforward installation
REASONS TO AVOID
Inclines too much forward
---
Esright Massage Recliner Chair – Best for Neck Pain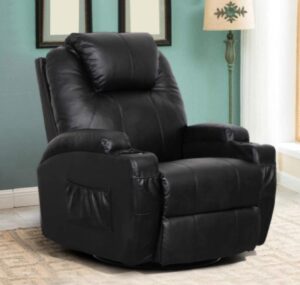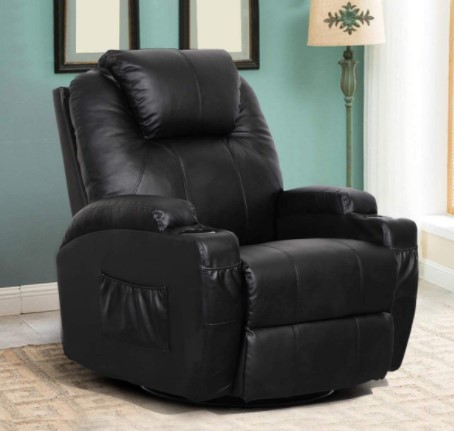 Esright is well-known for its durable production of furniture items that provide both active and passive support to your body or maybe to its various specific parts if needed. This massage chair recliner under 500 dollars has multiple adoring features and an over-padded headrest which work collectively to support your back, lumbar, neck, and shoulder regions.
Its premium massage features will never let you feel heavy while sitting for hours. You have 8 vibrating nodes from shoulders to calves to effectively stimulate blood circulation. The heating feature at the lumbar also plays an important role in maintaining the entire vertebrae and tailbone.
You would love to invest in this chair!
Important Features You Need to Know
As its title states, this delightful recliner has a good capacity to recline, massage, swing and even warm up your lumbar when functioning. It does it completely at a phenomenal cost limit, advancing it an excellent chance for low-budget customers who want the most utmost out of a single item of chair.
Besides the functionality, this chair has a polyurethane leather upholstery, overstuffed padding to care spine, and a pretty healthy perspective that will ease you in a subject of moments. Just rest on it and expect for it to take on its incredible work – you'll forget that it is the only type of furniture.
It yet leads to giving much more than that, such as an electronic way for mechanical work, so you don't have to drive your limbs when sitting in it. Add the magnificent assemblage of beneficial characteristics with the cup racks & the side pocket – and you'll receive a chair that doesn't go from anything to the mind.
Final Views
For people searching for a massage recliner to place in a living room which is stylish and feels more comfortable like a sofa chair, Esright massage recliner is an easy choice to go with.
REASONS TO BUY
Manual Control Massage Recliner
360-degree swivel
Durable and comfortable
Head-to-toe over-padded
Recommend for height around 5'1″-5'9″
REASONS TO AVOID
Maybe arms can bend outward
---
CANMOV Power Lift Chair Recliner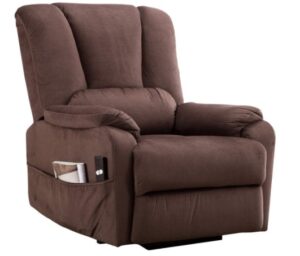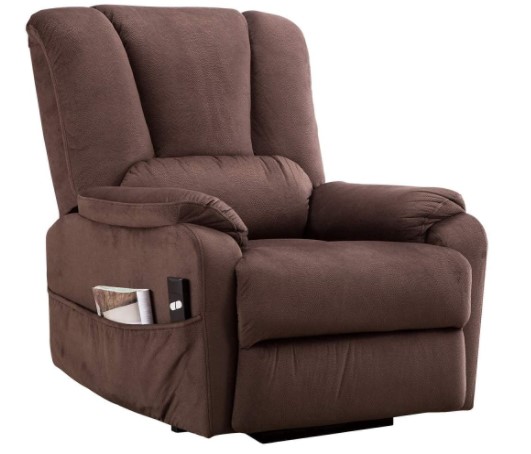 This captivating model of power lift recliner is the best choice for lumbar support and comes in a homey design, hence goes perfectly with the living room setting or in any room you want to place it.
The body is extremely padded and finished finely with antiskid upholstery. Your hassles are no more of adjusting huge models using lots of tools and advanced mechanical elements installation knowledge. Simply within 10 minutes, by reading thoroughly the quick guidelines of assembly, you can assemble this chair to use immediately after you received your order and here you go!
Consider it the treatment corner if you are facing acute or chronic back pain. It will cover all body edges where sudden pain is a mess in your life!
Important Features You Need to Know
Since many times you have to add extra cushions in the seat or at back to support the lumbar by giving it an optimum berth from beneath. This chair will give you inbuilt thick cushioning and side armrests covered with seamless padding stuff.
Once you sit in it, you will feel a positive and relaxed vibe spread through your entire spine and relieve you from any backache and muscles' stiffness. This is also because you get this chair's width and height highly encouraging to move within it and set your back by reclining the backrest at three suitable positions.
If your doctor has recommended sitting in a chair that retains normal blood flow in legs after leg surgery, you can confidently choose this chair due to its propagative footrest and headrest extensions at greater scales. You can even make it a bed if you want to lay down on it for a quick nap in a day.
Final Views
Don't worry if you are fond of sitting in a seat where you can take books, headphones, and snacks all together for spending a quality Sunday time, CANMAV will solve your problems by providing one-step ahead solutions. The elderly are more encouraged to buy it for experiencing strong lifting features and more!
REASONS TO BUY
34″W x 39″D x 40.6″H
Secure from headrest and lumbar
No need for extra cushioning
Built-in strong automated mechanism
REASONS TO AVOID
No massage
Moderate customer support
---
Carter's by DaVinci Arlo Recliner and Swivel Glider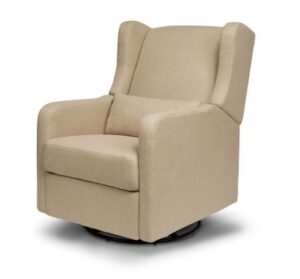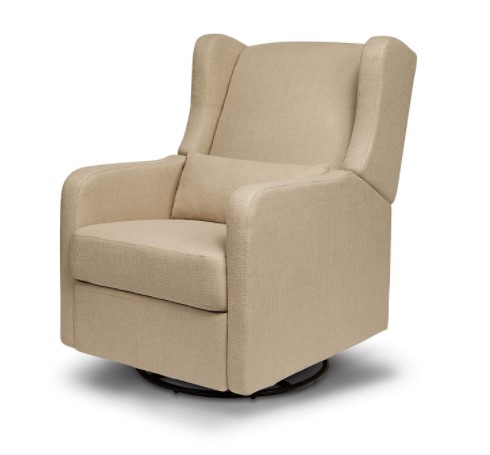 If you want a recliner sofa chair that is not a leather bounded ball but seems highly incorporative to adjust with living room classic furniture, this chair will be for you!
Among all brands we know, this chair has fantastic fabric resistance to any stain and permanent dust factors. Your job of cleaning the chair is very simple and quick.
It is a GreenGuard certified chair and emits no chemical vibes that can harm skin or any side of naked body. The eco-friendly mechanism is also very convenient to handle and help you deal with while nursing your baby like an expert because you have no fear of dropping stains over linen fabric.
Important Features You Need to Know
The chair is a convenient medium for performing multiple tasks including reclining, tilting, and soothing skin from any environmental stain. It is professionally composed using conveniently managing elements so that if footrest breaks in the future or any fracture in its mechanics occurs, you can easily amend it yourself.
This chair is a practical illustration of an authentic model that can really stand by any specific setting such as keeping distance from chemical exposures as many people are allergic to instant chemical components present in the fabric. It is a Greenguard Gold certified chair and assists easy cleaning when something drops on it.
Final Views
If you are looking for a non-leather recliner to place in the living room, this chair is the finest choice. Its composition is pure linen and nonreactive. Therefore, mothers have more relief to manage with their baby tasks sitting in it!
REASONS TO BUY
Tested brand
Durable and flexible
In-built lumbar cushion
Perfect for mothers
REASONS TO AVOID
---
Best Living Room Chair for Back Pain – Buyer's Guide!
Buying a chair for your living room can be tricky because there are many brands and designs present out there making up a diversity of chairs including ordinary ones, ergonomic chairs, and recliners.
But as the comfort is your priority that you want foremostly from any chair, look closely at the composition and formation of chair, including its final finish.
Which things you need to know before buying the best chair for the living room and how to identify them and assure them to must-have in your picked choice, let's know below:
Seat Comfortability
Getting in seat and finding it narrowed and non-breathable can be the biggest guilt you will feel after investing in the chair you want to place in the living room. Make sure that whichever chair you are choosing has width and depth extended or enough to an extent where you can freely move and change position. So that displacing your thighs, waist, and hips will lead you to put least pressure over your spine and ultimately help you get rid of back pain just by sitting.
Portability of Features
A good reclining chair has major features including seat tilting, adjustment of height, rotating, swiveling, and reclining, that collectively ensure whether you are getting relief or not.
Simply choosing a chair with only paddy comfort can set you face trouble afterwards because you can't move forward or backward, neither even move up and down where normal circulation of blood cannot be sustained and you feel more pain around tailbone and in legs.
Also check out massage customization if you have recently got surgery of calves, feet, legs, or near spine. If the massage features cannot be managed, you must not buy this chair and look for another one.
Comforts
Look closely which points can drive comfort to you that you actually want. Most chairs have a plain backrest with no additional bump that can support neck and shoulder separately. Similarly most have additional comfort giving paddings over armrests and headrest. It effectively declines the level of stress our spine gets while sitting. Laying on it while using different features in chair, you can feel lighter and relaxed.
Price and Warranty
Because the living room is the most busy room in the home where the maximum time of every member spends. Therefore, the sofa or recliner chair you are choosing must be affordable and cost-effective so that you can bring two or three of them to make a set in your living room.
Also check out the warranty of chair. A good chair is one which helps you for years without losing its actual base for performing functions and more!
Frequently Asked Questions about Best Living Room Chair for Back Pain
Is a recliner good for healthy spine?
Recliners help users lean back to not straighten the spine to get stiff, but maintain normal blood flow which reaches to all tissues of body and reduces back pain more effectively than ordinary chairs. This is the basic reason people choose recliners to get recovered fastly from back pain and other surgical aches and athlete injuries.
How does a hard surface affect your back posture badly?
Hard surfaces can lead you to develop bad posture. How? Long term leaning while standing or sitting can make your spine, heart, and intestinal tissues become constrained and depressing, lessening their blood flow, and gradually evolving stiffness and dizziness in the chest and lower posterior.
An unintentional sitting posture places a small progressive curve on the backbone.
Can I walk with back pain?
Walking is a good and healthy habit if you develop it for regular review. It makes muscles flexible and lets you enjoy hiking, swimming, and dancing like thrilled activities. But if you are facing chronic back pain for years, minimize over-walking and focus on alternative meditations such as massage to help you aid back pain and other spinal discomfortness.
Conclusion
This was the complete guide with a comprehensive list of products and their reviews if you have decided to change the setting of your living room and upgrade its format. The reviews we have explained contain each chair's profile and specifications overview. It is made to help you reasonably pick the best living room chair for back pain and adds to the beautification of the room more than any furniture.
To save time, check our first two products as they are tested verified and have high tendency to aid back pain. Hence we encourage you to buy what gives you ultimate relief and quality entertainment.